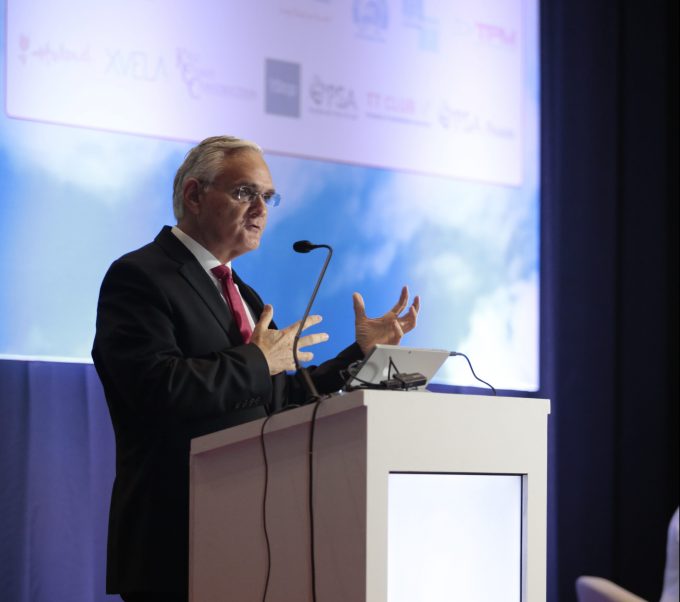 Following a strong year in terms of growth in vessel transits, the Panama Canal Authority is once more turning its attention to building port capacity as well as new zones for increased logistics activity.
In the keynote speech at this week's TOC Americas Container Supply Chain event, authority administrator and chief executive Jorge Quijano (pictured) told delegates that, while vessel transits were its primary business barometer, ports activity had become increasingly important to the country as a whole.
"Panama doesn't just rely on transits, but also on transhipment and there is an increasing synergy between transits and transhipment – 72% of the vessels transiting the canal also make a port call to drop off and pick up cargo.
"The question for Panama is whether we can add value to that cargo to create exports; we are not like Colombia, with a population of 40m and a large industrial base.
"That fact makes our ports less competitive, so we are looking at ways to open up the containers and add value to the goods coming through the canal," he said.
There is some 1,200ha of brownfield land adjacent to PSA Panama's Rodman terminal, which, Mr Quijano said, was "completely useless land that couldn't be used because it was full of ordinance left by the US Army when they were in control of the canal, as they used it as a firing range".
The area was cleared of the ordinance during the canal expansion project and he said the canal had drawn up plans to develop a ro-ro terminal for pure car carriers.
Value-added services such pre-delivery inspections of finished vehicles could be offered, as well as an LNG bunkering facility for vessels using LNG as a fuel, post-2020.
Next to that would be the site of "Panama's logistics dream", possibly covering as much 689ha.
Mr Quijano said construction of the first phase will vegin next year, covering some 55ha, with a second phase dedicated to temperature-controlled logistics, covering 30ha, to follow.
He added that Panama may once again look to concession the Corazal terminal project, which previously failed to attract a single tender, as described in the recent Loadstar LongRead, despite initial interest from PSA, APM Terminals and CMA CGM, among others.
"There were some companies that didn't express interest initially that we are now talking to and instead of a three-ship berth, we have brought it down to two," said Mr Quijano. "We are not clear about when we might relaunch the tender process, but we are certain it will be needed at some point – the current port capacity of Panama is about 6m teu and we feel that more will be required at some point."
It appears Panama is able to turn its attention back to its ports now the decision to expand the canal, formally re-opened in June 2016, has been firmly vindicated.
"In the fiscal year there was a 22% increase in tonnage transiting the canal – it has been a very good year," said Mr Quijano. "There was a 12% increase in container tonnage and 24% increase in liquid bulk. Car carriers also got back to the level where they were in 2007, mainly due to Mexican exports of finished vehicles to the US.
"However, any tariffs imposed by the US poses the question of how the future of the Panama Canal will look. The fact is that the canal's two largest customers – the US and China – are about to embark on a course that will affect us. We just don't know how yet," he added.
The canal also finds itself under continuing competitive pressure from Suez, and Mr Quijano claimed the Egyptian waterway offered lines a 55% discount on transit fees when Panama opened the expanded canal, which last year was increased to a 65% discount – "they are almost giving it away".
PSA Panama's Rodman terminal itself completed a major expansion project this year that took capacity up to around 2m teu per year and transformed it from a single- to a two-berth operation, where MSC established a transhipment operation connecting its Ecuador feeder service with a transatlantic deepsea service.