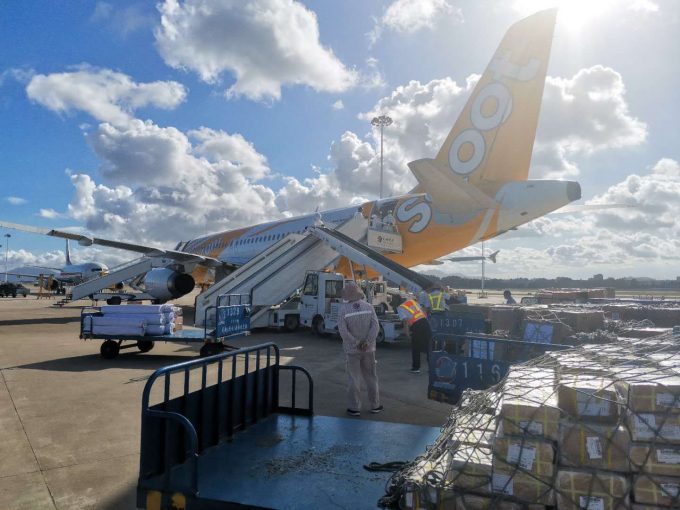 Budget passenger airlines are warming to cargo: Singapore-based Scoot is removing seats from A320 aircraft for regional freight operations, while SpiceJet has used a reconfigured A340 to fly to Europe and Africa.
Traditionally, low-cost carriers (LCCs) have shown scant regard for cargo. Many have not bothered with it at all, lest the loading/unloading disrupt tight turnaround times.
Others have dabbled – JetBlue stopped its cargo operations a few years ago, but entered the business for a second time last year.
As the low-cost arm of a legacy airline with a pedigree in airfreight, Singapore Airlines offshoot Scoot has, arguably, been closer to cargo than many of its peers. It was one of the first Asian carriers to use some of its 787-9 planes to haul cargo, starting in March.
On 22 August, it entered the maindeck scene with an A320 that had been stripped of seats, flying between Fuzhou and its Singapore base.
According to the carrier, the removal of seats doubled the plane's cargo capacity to nearly 20 tonnes. And Scoot has since put a second A320 into the modification process.
Indian LCC SpiceJet set its sights on the longhaul sector, with a modified A340 that joined its fleet last month. Its first commercial flight took off from Amsterdam on 22 August for Mumbai. The next day, it took off for Africa, hauling 40 tonnes of cargo from Mumbai to Khartoum.
"The induction of our first A340 aircraft has significantly enhanced our operational capability and will allow us to operate non-stop cargo services across the globe to destinations in Europe, Africa and CIS countries," said SpiceJet chairman and MD Ajay Singh.
The Covid-19 pandemic has piled on the pressure on the LCC sector, which was already facing headwinds. One of the first casualties was Flybe, while in Asia, Nok went into business rehabilitation and its longhaul NokScoot joint-venture went under. AirAsia X has been in hibernation since posting a record net loss of $129.6m for Q1.
From a forwarder perspective, the additional lift is welcome, despite the shortcomings.
"It's not economical to load such 'pax freighters' manually. You can only load small pieces and the process is laborious," said Stephan Haltmayer, CEO of Quick Cargo Service. "The whole thing is costly because you can only load a small tonnage,"
He added that the handling of these planes had caused congestion at Frankfurt Airport.
Nevertheless, the additional capacity met a need, he said, adding: "This lift is an alternative, because there are far too few freighters in the market.
"Maybe some airlines now realise how important freighters are and how important a cargo division suddenly can be."
He says Lufthansa is going to hang on to its MD-11 freighters, which were supposed to be retired by the end of this year, even though the German carrier is taking delivery of two 777-200Fs this autumn, while another two 777Fs are due for delivery to joint-venture operator Aerologic.
Other passenger airlines are taking seats out of widebodies to maximise cargo payload. Last month, Cathay Pacific boosted its cargo capacity with the introduction of two 777 'preighters', and EVA Airways was the first carrier from Taiwan to go down this avenue, with one of its 777-300ERs.
In North America, Delta has decided to remove seats from an unspecified number of widebody aircraft.
As the recovery in passenger traffic has stalled, passenger aircraft are expected to remain in cargo service for longer than originally anticipated. By the same token, LCCs are likely to up their presence in the cargo market.
The irony in this is that it was the rapid growth in LCC activity that forced slot restrictions for freighters at Amsterdam. Now, the nemesis of the air cargo business is in hot pursuit of freight in order to stay afloat.