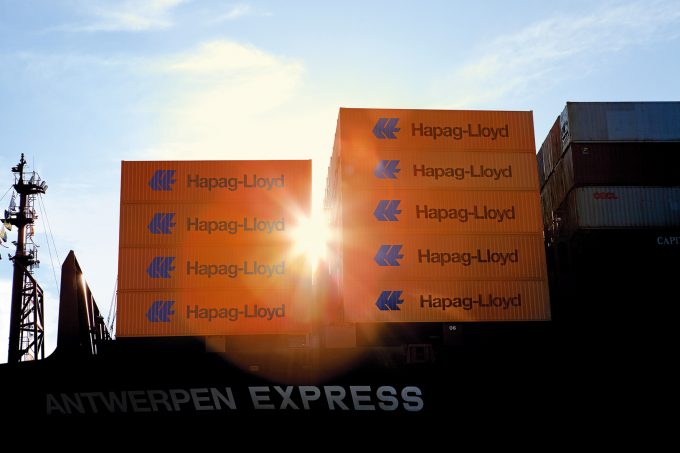 Hapag-Lloyd recorded a net loss of $47m in the first three months of this year, its second consecutive quarter of negative results.
Speaking during the German carrier's results presentation this morning, chief executive Rolf Habben Jansen said the company was "cautiously optimistic" of a recovery, particularly in the second half of the year.
"We believe there will be a recovery in freight rates evidenced by the recent gains in spot rates and backed by capacity cuts," said Mr Habben Jansen, although he admitted that he did not have a "crystal ball".
Despite optimism on freight rates returning to sustainable levels, he said it was still "incredibly important to remain focused on cost, cost and cost".
Hapag-Lloyd carried 1.8m teu across its services in the first quarter, which represented an increase of 2% on its liftings in the same period of 2015, but Mr Habben Jansen said that this could have been greater had it not reduced its exposure to Asia-Europe and Asia-Latin America trades by declining some loss-making volumes.
Revenues suffered an 18% drop, year-on-year, to $2.1bn and the carrier's average rate plummeted by 20% to $1,067 per teu – although interestingly this was still higher than Maersk Line's first-quarter average rate of $929 per teu.
The average bunker price for heavy fuel oil (HFO) paid by Hapag-Lloyd in the quarter was $178 per tonne, compared to $378 per tonne in the first three months of last year, but in recent weeks oil prices have increased and are currently at around $210 for HFO.
At the EBIT level, Hapag-Lloyd scrambled an operating profit of $5m, which was 97% lower than the strong start in the first quarter of 2015 when the container line recorded EBIT of $196m and a net profit of $144m.
Aggressive cost cutting helped to reduce Hapag-Lloyd's transport expenses by $198 per teu, year-on-year, although half of this came via lower fuel costs.
The carrier has also shed 13% of its land-based staff, compared to a year ago, in its cost efficiency drive, taking the head count down to 7,929 as at 31 March.
With the merger of CSAV's container business, Latin America is now Hapag-Lloyd's biggest market by volume, with the carrier lifting 536,000 teu in the period, however freight rates on these trades plunged by 24% in the period, only pipped by the 25% decline in intra-Asia freight rates and a 28% dive in Asia-Europe rates.
One balance sheet note was particularly interesting – Hapag-Lloyd's sale and lease back of equipment which it said was "essentially a form of borrowing" and secured the carrier $51m in cash.
In order to fund the purchase of two 3,500 teu wide-beamed utility ships from Nile Dutch, Hapag-Lloyd said it had taken out a bank loan over a seven-year term.
Investors were clearly not overly impressed with today's result, with its stock on the Frankfurt bourse down by around 4% this morning at €18.90 – still short of its November IPO launch of €20 per share.