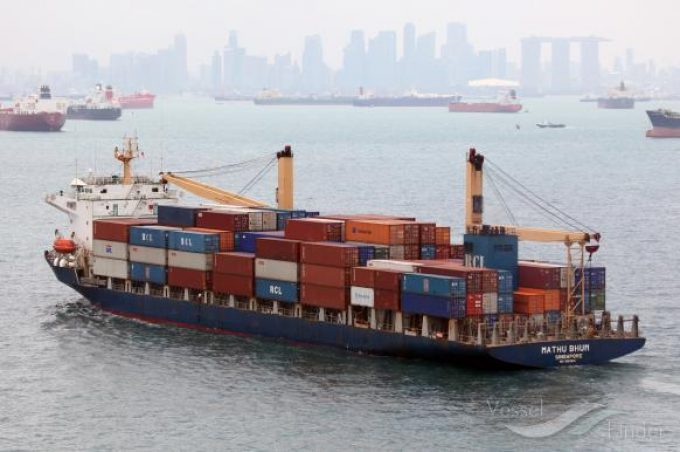 Thai intra-Asia carrier Regional Container Lines has ended a nine-month drought in box ship demolition with what could be the first to be scrapped this year.
A RCL spokesperson confirmed to The Loadstar that it had sold its 1990-built 1,248 teu Mathu Bhum for recycling on 25 September.
Its final destination is not known, said the spokesperson, adding that Mathu Bhum was sold to a cash buyer.
Brokers estimate the sale price at $620/ldt. The ship has a light displacement tonnage of 5,103, so the sale price could have been just over $3.1m.
Until now, no boxships have been sold for scrap this year, as high freight rates encouraged owners and operators to continue using elderly vessels. However, in the past four months, freight rates have been falling from historical peaks and Taiwanese logistics veteran David Yen recently predicted that boxships would have to be scrapped to restore the supply:demand balance.
According to Alphaliner, the last boxship sold for scrap was the 1991-built 310 teu Da Fa, offloaded to Bangladeshi recyclers last December. Just 19 ships, totalling 16,500 teu, were demolished in 2021, and Alphaliner expects a similar or lower figure this year. However, 2023 could see at least 250,000 teu scrapped.
Boxship demolition reached an all-time high in 2016, when over 600,000 teu of vessels, including 55 panamax boxships, was scrapped as many mainline operators struggled with profitability. Asia-Europe rates were hovering at just below $900per teu, while transpacific rates were averaging over $1,100 per feu.
In comparison, despite the softening, current spot rates are still higher than pre-Covid days, with Asia-Europe rates at around $4,000 per teu and the transpacific at around $3,500 per feu.
Alphaliner said: "Demolition of cellular container tonnage has been at an all-time low this year, with no cellular vessels sold so far. This recycling misery found its root cause in the boiling hot charter market which gave little incentive for owners to scrap their ships, despite strong recycling prices.
"However, with collapsing freight and charter rates in the past weeks and new carbon regulations coming into force in 2023, demolition sales could now pick up."