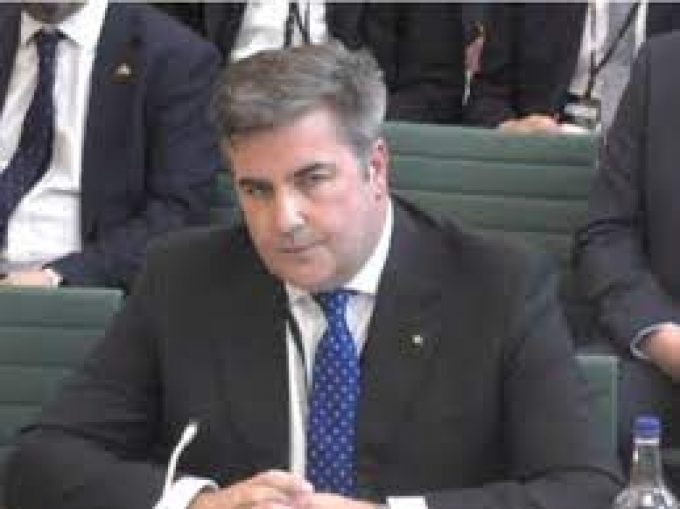 P&O Ferries CEO Peter Hebblethwaite (above) today admitted to UK MPs that the company knowingly breached UK employment law in last week's mass sacking of some 800 seafarers.
At a specially convened joint session of the all-party parliamentary transport and business select committees, Mr Hebblethwaite was asked by MPs: "Which employment law have you breached?"
He replied: "No consultation [with the seafarers], but we will compensate everyone for that.
He added: "P&O Ferries has lost hundred of millions of pounds over the last few years and we would have had to close the business. We thought long and hard about the decision, but every single option we looked at would have resulted with the closure of P&O.
"It is a fundamentally different operating model we are introducing, and we concluded that no union would have accepted it."
And he added: "We were required to consult, but we chose not to do that, but we will recompense everyone because of that.
He described the £35.6m ($48.2m) compensation package it has offered the sacked workers as "extremely generous", and claimed it was "the largest maritime settlement in history".
Under UK law, employers must notify staff and unions of forthcoming redundancy action 45 days before the first dismissal takes place. P&O argued that because the seafarers were employed on vessels flagged in Cyprus, Bermuda and the Bahamas, this did not apply.
However, Andrew Burns QC, a barrister at Devereaux Chambers, told the committee that, while there are special provisions for seafarers employed on foreign-flagged ships, "45 days before the first dismissal, they have to notify the country where the vessels are flagged".
However, it appears the registries of Cyprus, Bermuda and the Bahamas were notified on the same day staff were told, which suggests the company not only broke UK employment law, but also the international requirement to notify the flag states.
UK shipping minister Robert Courts said P&O, and Mr Hebblethwaite in particular, had been given ample time to warn the government of its intended plan.
"I first met previous CEO David Stretch on 15 December 2020, and I had an appointment with  Mr Hebblethwaite scheduled for 22 February this year, which he then cancelled. We then proposed several dates in March to reschedule, but never received a response from him.
"P&O had every opportunity to sit down and tell me whatever it was they wanted to say," he told MPs.
And he added: "This will have been thought about for some time and I am disgusted at the way P&O have behaved – they haven't taken the opportunity to consult and seemed hellbent on doing this anyway."
Also giving evidence to MPs was secretary for business Paul Scully, who said he was "horrified" by Mr Hebblethwaite's evidence and said the government's insolvency service was looking at what legal action it could bring against the company and its directors.
If P&O is found to have broken the law, it faces an unlimited fine.
Mr Hebblethwaite, who said the "new operating model" would halve the company's crewing costs, was adamant he made the right decision, telling MPS: "I would make the same decision again – we weren't a viable business before, and if we hadn't made radical changes we would have had to close."
In response, Andy McDonald MP said: "It is unlikely to be a viable business if it is facing an unlimited fine."