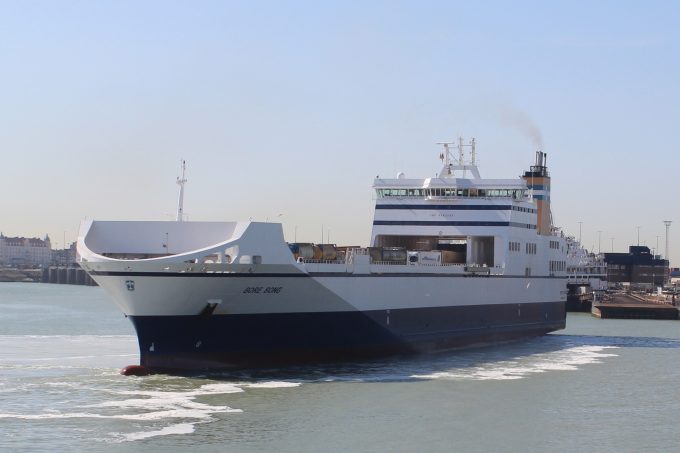 In response to the recent demise of Scotland's only direct maritime ro-ro link with continental Europe, P&O Ferries has announced plans to hike freight capacity on its services between Zeebrugge and Teesport.
The move combines with the planned launch of a new daily rail service between the northern English port and the Mossend rail terminal in Scotland, and P&O Ferries said it would increase freight capacity on the route by some 25%.
The operator currently offers 12 sailings a week between the two ports with freight-only ro-ro vessels Bore Song (pictured above) and Mistral, although these are expected to be replaced, as it wants to deploy larger vessels.
Janette Bell, P&O Ferries chief executive, said: "The most reliable way for exporters to or from Scotland to transport their goods is via Teesport. The 15-hour sailing is more cost-efficient than more northerly routes, and by integrating our timetable with PD Ports' new rail service to Scotland, we can guarantee customers an unrivalled service to and from northern Britain."
The timetable of both services "will be fully integrated so that freight can be moved from one to the other with minimal delay", say the two operators.
Frans Calje, chief executive of PD Ports, added: "We have a strong and historic partnership with P&O Ferries and we are supporting this expansion by providing additional capacity for the upsized Zeebrugge-Teesport route through even more investment in our rail services to Scotland.
"PD Ports has extensive rail capacity with direct intermodal links across the UK and, with a second daily service to Scotland imminent, we will shortly see further opportunities for cargo movements to and from Scotland."
The plans were welcomed by major trans-European road freight provider ECS.
Its chief executive, Pieter Balcaen, said: "Our mission is to create sustainable and reliable logistics, which means that we focus on sustainable transport and multi-modal solutions to add value to our customers.
"The Teesport Rail initiative started three years ago, with a reliable level of service from day one. The increased ferry and rail capacity will enable us to further develop and strengthen our rail connections to/from Scotland. This is vitally important for our intermodal solution for our two products: Commodity Full Loads or one step beyond Supply Chain Solutions."
The move follows the mid-April decision of DFDS to close its Rosyth-Zeebrugge service after an engine fire on the Finlandia Seaways. DFDS said it was unable to secure a replacement vessel and would close the loss-making route.
"Unfortunately, this will bring about further losses on the route and it means that we have lost all hope of being able to turn around the route's loss-making situation. Therefore, we have no alternative but to close the route as we undoubtedly will lose clients who will be forced to seek alternative solutions for their transport," said Kell Robdrup, DFDS senior vice president of routes connecting to the southern part of the North Sea, at the time.
"In cooperation with the Scottish government and the port, we have tried everything in our power to save the route. This included going from a combined passenger and cargo ship to a freight ship, reducing costs by enabling double-stacking of containers and reducing fuel costs by installing a scrubber to remove sulphur from the exhaust gas instead of using expensive, low-sulphur fuel."