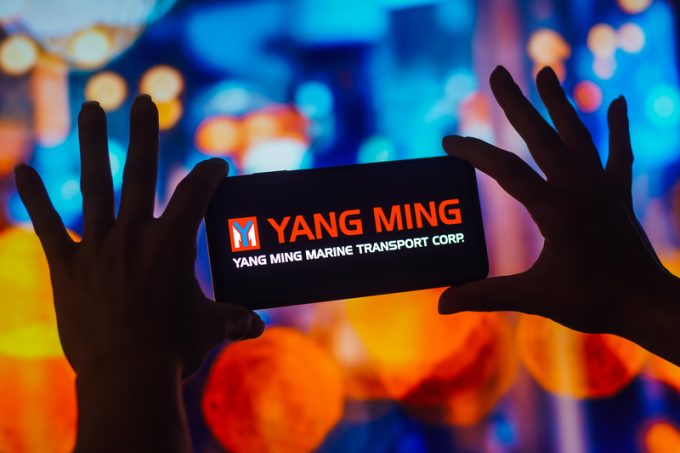 Yang Ming's management said at its AGM today that oversupply in container shipping is expected to worsen.
U-turning from an optimistic position in March, Yang Ming president Patrick Tu Shu-chin blamed geopolitics, inflation and massive newbuild deliveries.
Mr Tu was speaking a fortnight after Yang Ming disclosed that Q1 23 net profit plunged to $112m, a situation confronting all its peers as cargo volumes and Covid-19-related port congestion ease off.
Mr Tu said: "We believe that as supply chain bottlenecks are gradually alleviated, shipping capacity will recover. The container shipping market will also usher in a peak in the delivery of newbuildings, expanding the supply-demand imbalance, particularly on ocean-going routes. We foresee many challenges in future business development, but we hope to carve out a niche in short-sea trades."
Mr Tu said that the Taiwanese liner operator plans to invest in more terminals and container yards.
He stated: "We will discuss pan-industry investment opportunities such as terminals/yards; take advantage of opportunities to diversify our operations; strengthen the future development of Yes Logistics Corporation (Yang Ming's 3PL subsidiary); and seek collaboration with other companies."
Last October, Yes Logistics opened a Thai branch through a joint venture with compatriot 3PL Easy-Way Logistics. Yang Ming's management said that the move was in line with the Taiwanese government's New Southbound policy that aims to strengthen cooperation with Southeast Asia while cutting reliance on China, amid rising geopolitical tensions.
Mr Tu added that revenue from intra-Asia shipping, particularly for routes to Southeast Asia, had shown good growth over the last few years.
After recording a net profit of $6.1bn in 2022, Yang Ming announced a dividend of 20 Taiwanese cents ($0.0065 cents) per share, refusing minor shareholders' request to be more generous with dividends.
Yang Ming chairman Cheng Cheng-Mount responded that when considering 2022 earnings of 51.71 Taiwanese cents ($0.017 cents) per share, the dividend took into account many considerations, and is therefore, a "balanced dividend policy."
"The shipping market is highly volatile, and the dividend policy considers many factors, including economic changes and the company's future business plans," he added.