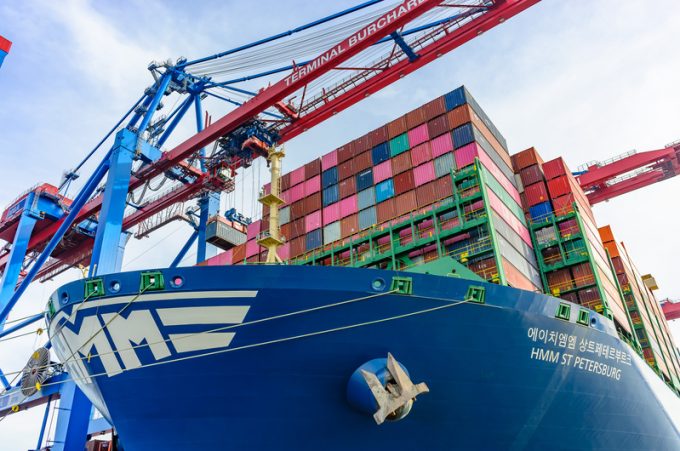 Yang Ming and HMM, the final members of THE Alliance to release first-quarter financial results, provided further evidence of the sharp liner market correction's impact on bottom lines.
Taiwanese Yang Ming and South Korea's HMM both saw profits slump in Q1, the latter saying there were "no signs" of a recovery in demand.
After recording a net surplus of $6.1bn in 2022, Yang Ming's profit nose-dived to just $112m in the first three months of this year, a quarter that is expected to be the strongest of the year financially for carriers still benefiting from unexpired high-rated contract business.
According to Alphaliner data, Yang Ming operates a fleet of 93 ships, for a total capacity of 705,614 teu, and is the ninth-largest ocean carrier. Its orderbook is conspicuously empty, but during a board meeting on 12 May, the green light was given to procure five LNG dual-fuel 15,000 teu vessels.
Meanwhile, HMM, which posted a net profit of $7.7bn in 2022, recorded a 91% Q1 decline, compared with the same quarter a year ago, to $210m, with revenue sinking 58%.
The carrier said: "The easing of global supply chain pressures has affected revenue and profits and has led to the normalisation of the container shipping market." It would "focus on a wide range of cost-cutting measures" to mitigate the effect of the "market volatility and widespread uncertainties".
HMM is the eighth-ranked carrier in terms of capacity, with a fleet of 73 vessels with an intake of 807,677 teu. It has an orderbook of 26 ships for a capacity of 265,000 teu.
Last week, THEA lead line Hapag-Lloyd announced a Q1 net profit of just over $2bn, but the lower end of its full-year forecast is an ebit of $2.1bn, suggesting the Hamburg-based carrier will only achieve break-even trading for the following three quarters.
"The market environment has normalised, with corresponding declines in demand and freight rates," said CEO Rolf Habben Jansen. "This will undoubtedly have an impact on our earnings, so we will be keeping a very close eye on our costs."
The fourth member of THEA, Japanese carrier ONE, declared a net profit of $1.2bn for Q1, the final quarter of its financial year.  CEO Jeremy Nixon referred to a "significantly weaker" market and said "any discernible green shoots" would not be visible before "at least June and July".
THEA is the third-largest alliance on the Asia-Europe trade, with a 25% capacity share, compared with the Ocean Alliance with 34% and the 2M's 36%. However, on the transpacific THEA is the second-largest, with a capacity share of 27%, above the 2M's 23%, but behind the OA's 39%.
As part of its April network improvements, THEA upgraded its FE3 loop to 12 24,000 teu ULCVs, replacing the 11 14,600-16,000 teu ships on the service.