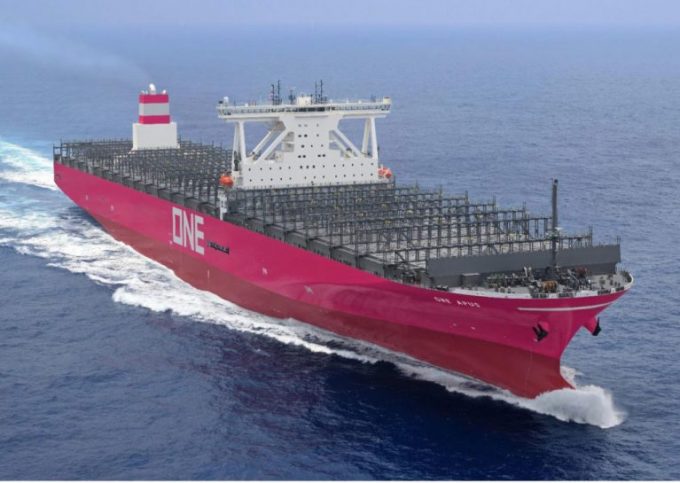 New details have emerged about the loss of containers overboard from the ONE Apus this week that suggest it could be the largest single container loss since the sinking of the MOL Comfort in 2013.
Yesterday ONE released a situation report saying 1,900 boxes or more could have been lost on Monday night when the vessel hit heavy weather in the Pacific.
"The vessel was on passage from Yantian to Long Beach, approximately 1,600NM north-west of Hawaii, when it encountered a violent storm cell, producing gale-force winds and large swells which caused the ONE Apus to roll heavily, resulting in the dislodging of the lost containers.
"Early investigations onboard the ONE Apus have determined that the impacted container bays remain unsafe for close-quarter inspections; however, it is estimated that the number of lost or damaged units could exceed 1,900, of which some 40 are believed to be DG [dangerous goods] containers," the statement said.
It added that the 14,000 teu vessel had abandoned its original destination and was now "proceeding in a westerly direction towards Japan with plans to seek a suitable port to right unstable containers, assess any damages and determine the exact numbers of containers lost".
The ONE Apus is deployed on THE Alliance's FP2 North Europe-Asia-North America service, according to the eeSea liner database, along with 17 other 14,000 teu vessels from the ONE and Yang Ming fleets.
According to the World Shipping Council's (WSC) Containers Lost at Sea 2020 update, an annual average of 1,382  containers were lost at sea between 2008 and 2019.
The statistics are of course skewed by catastrophic casualties, such as the 2013 sinking of the MOL Comfort that resulted in a loss of 4,293 containers; the grounding and loss of M/V Rena in 2011 that saw around 900 containers lost; and the tragic total loss of the SS El Faro in 2015 with the loss of 33 crew members and 517 containers.
However, between 2017 and 2019, the industry managed to reduce the average annual loss to 779.