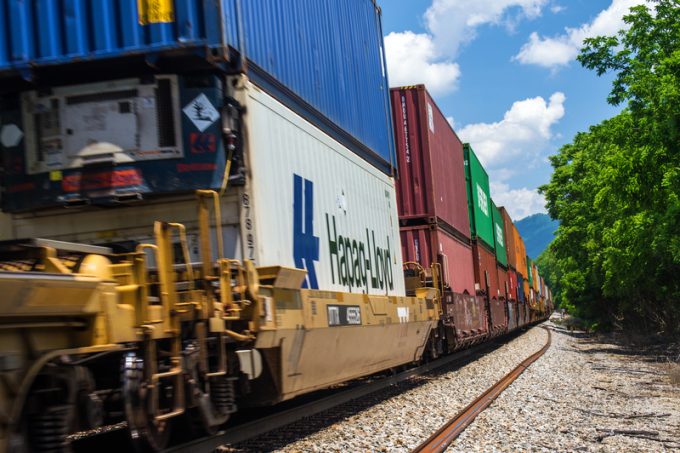 US shippers and importers that rely on rail are bracing themselves for a long slog through a period of congestion and delays.
Some have lost patience and shifted traffic to truck.
The Los Angeles-Long Beach port complex has become synonymous with congestion for months, and problems are expected to continue at least into June, with imports projected to remain at elevated levels.
However, other parts of the country are also struggling with delays.
Containers headed for the Midwest have been stuck at the New York/New Jersey port complex because of congestion on the rail network in the Chicago area, where several intermodal rail yards have been clogged up as a result of a combination of factors.
The problems began in February, when the terminals in New York and New Jersey were closed for five days because of weather conditions. According to some reports, Norfolk Southern is still working through the backlogs.
Import volumes through east coast ports have climbed, partly because importers shifted traffic from Asia there to avoid the delays on the west coast. Norfolk Southern reported a 12.4% rise in its intermodal traffic in March.
The Intermodal Association of North America registered a 13.6% increase in 40ft intermodal units moving out of the north-east and Midwest for January and February, while nationwide intermodal volumes were up 9.3%.
At the same time, increased volumes of containers continued to pour into Chicago from Pacific ports, adding to the congestion at rail yards.
Last month, some containers were stuck in New York/New Jersey for 12-24 days. These delays have eased, but are still a headache for importers. And ocean carriers have warned of delays of two weeks for containers arriving through the end of April.
As a result, trucking volumes from the east coast to the Midwest have gone up, despite the significantly higher cost.
Apparently, CSX has fared better than Norfolk Southern in the north-east. According to Tom Boyd, regional communications manager of Maersk North America, the line's intermodal traffic, which goes from APM Terminals' Port Elizabeth container facility direct to CSX, has been working well.
Last month, Memphis emerged as a bottleneck for exporters from the south sending their cargo to the ports of Charleston and Savannah, as both Class I rail carriers serving the area decided to limit the number of containers on trains out of Memphis in response to elevated import levels that have made it more challenging for them to balance import and export containers at intermodal terminals to reduce congestion.
Meanwhile, container terminals at Los Angeles and Long Beach have added another factor to the lengthening blame list for delays. After reduced work crew productivity, due to Covid-19, ships piling up in San Pedro Bay, overflowing container yards and shortages of boxes and chassis, a shortage of railcars is now adding to the delays.
As a result, railcar turn times have doubled, to about 10 days. According to the Pacific Merchant Shipping Association, a body of shipping lines and terminal operators, the average dwell time of rail containers continued to increase in February.
The railways have blamed the railcar shortage on the high volume of cargo straining the system, with the bad weather in February an aggravating factor.
In the week ended 26 March, US rail volumes were up 16.1% on a year ago; intermodal units had increased 25.8%, after a 2.3% rise over the previous week's tally.
And a easing of volumes is not in sight. The National Retail Federation projects an increase in retail sales this year of between 6.5% and 8.2%, and has predicted record volumes at least into June.
So rail users are bracing for more challenges: an executive from a project forwarder that moves a lot of outsize shipments by rail said planning schedules has had to be extended.
"We have to consider these things when we plan. We also have to consider what the rail companies prioritise," he said.