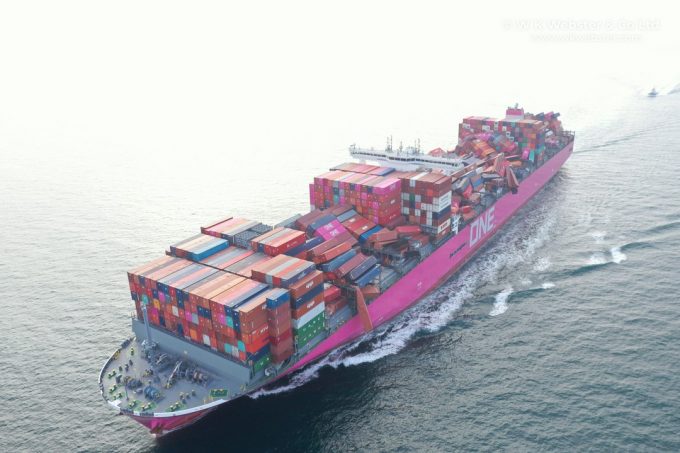 New analysis of drone video footage of the ONE Apus container vessel, which suffered a dramatic stack collapse on 30 November in the Pacific, has revealed that as much as 4,500 teu could be lost or damaged.
The 14,000 teu vessel suffered a massive container stack collapse en route to Long Beach after encountering heavy weather near Hawaii.
The carrier confirmed that 1,816 containers had been lost overboard, including 64 dangerous goods (DG) boxes. It abandoned its route and returned to Japan, berthing at Kobe last week.
Marine claims consultant WK Webster, which has a team of surveyors at Kobe and commissioned the drone operation, told The Loadstar the footage – which, courtesy of WK Webster Loadstar readers can access via this link, shows well over 2,000 containers, the vast majority of which are 40fts, have either been lost or destroyed.
"It can be seen [from the drone footage] that there are 22 bays on deck, of which 16 have collapsed to both port and starboard, leaving only six fully or partially intact," said Michael Hird, director of cargo casualty management at WK Webster.
"With 20 rows of containers per bay, and with stack heights of between six and eight containers, we anticipate that approximately 2,250 containers have been lost or damaged.
"It will also be noted that the vast majority appear to be 40ft units and, therefore, equivalent to approximately 4,500 teu," he said, adding that that figure would include the 1,816 units already reported by ONE.
"That would leave just over 400 collapsed on deck – except that the photos look like there are more than that on deck. So I suspect the numbers may change a little as the vessel sorts through the debris during the discharge operations," he said.
He added that around 18 containers were understood to have been unloaded so far, while WK Webster's latest casualty update notes that the full discharge operation is likely to run well into January.
"The task of removing containers from the deck of the ONE Apus has begun, after permission was granted by the Japanese coastguard on Friday. ONE has reported that the removal operation is likely to take over a month, although our assessment is that this may be optimistic," it says.
The vessel was one of 18 ships of 14,000 teu deployed on THE Alliance's FP2 weekly North Europe-Asia-North America pendulum service. According to liner database eeSea, while ONE and Yang Ming are the vessel providers, the largest slot capacity share is given over to Hapag-Lloyd, which controls 40% of the service's slots.
ONE has 36%, Yang Ming 15% and HMM 9%.