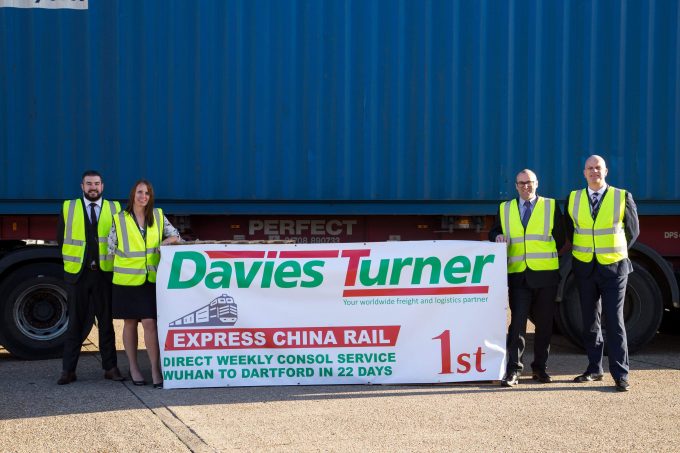 Asia-Europe overland services are strengthening as speed, security and rates improve.
The latest overhaul comes from Davies Turner, which offers a weekly rail import service for LCL shipments from China to the UK.
The forwarder has restructured its service so that containers now go direct from Wuhan to Duisberg, from where they are trucked under bond to Rotterdam and taken to Purfleet by ferry, before going on to Davies Turner's distribution centre.
"This new more direct method of moving the container from Wuhan to the UK will remove the current need to unload the container in Poland, then reload into a trailer, which will enable us to offer a lower rate to the market, and reduce the possibility of delays, as well as strengthening security," said Tony Cole, head of supply chain services.
The service, offered together with China's Air Sea Transport, takes 22-24 days.
The news comes as United Transport and Logistics Co – Eurasian Rail Alliance (UTLC ERA) announced its 3,000th train this year started its journey last week.
The total volume of traffic for the first 11 months of this year has hit a record high of 245,000 teu, up 58% year on year. Last year, UTLC ERA sent 2,102 trains, carrying 175,800 teu, up from 101,000 teu in 2016.
The route is becoming ever more popular, offering savings of time over sea, and cost over air. Rail has now been joined by trucks operating the route; at the end of last month, Ceva sent its first truck, which took just 13 days from China to Poland. It will launch regular services next year.
The greatest modal threat from the new services is to air, but Richard Forson, CEO of China-Europe specialist Cargolux, told The Loadstar he was not too concerned.
"Infrastructure for China-Europe trucking is not the best, and the train is quite slow. The overland route has the potential to be a threat, but there are security aspects as well. I think it's difficult. And I don't think trucking would be very efficient, in terms of drivers and so on."
However, shippers have been enjoying having an alternative.
Philip Stephenson, chairman of Davies Turner, said: "We were one of the early adopters of the opportunity to ship via rail from China to the UK and it has proved to be a practical way of offering an alternative, with clear advantages over the ocean freight and air cargo options in terms of cost and transit times.
"We have already seen during the previous two years of providing rail services how this option has assisted clients' supply chain needs, and with proven schedule reliability, secure market conditions and competitive rates, rail is proving to be an increasingly popular choice.
"If a client is experiencing issues with orders running behind schedule, at times of peak ocean demand, when a sailing has been missed or, as with the current ocean market conditions where vessels have been cut and are omitting UK ports, then rail is a viable service option, particularly so for larger shipments or dense cargo where the cost of air freight can prove prohibitive."