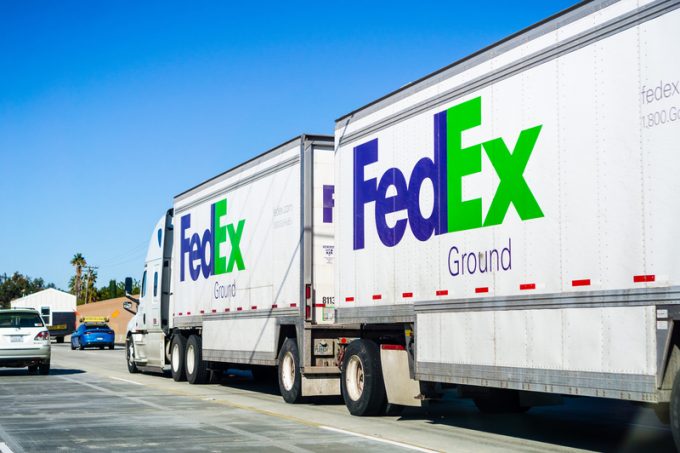 'To serve you better, we have raised our prices' – again: FedEx is to implement another round of increased surcharges in June, citing increased volumes and related costs.
On 21 June, the integrator will raise surcharges in three segments: for residential deliveries on domestic air and ground deliveries, it will double from $0.30 cents per package to $0.60 cents; and for residential deliveries, its Ground Economy product (formerly SmartPost), will go up 33% from $0.75 cents to $1 per package.
FedEx's additional handling surcharge, which applies to shipments that do not fit the standard parcel criteria, will be raised from $3 to $3.50 for residential deliveries of domestic and air, as well as international ground services.
FedEx's $30 surcharge on outsize shipments implemented in January will remain in place.
The company, which has labelled the additional fees "peak surcharges", cites increased costs from the surge in online shopping straining its systems and that they are necessary to maintain service levels.
"FedEx has kept commerce moving and delivered critical shipments throughout the Covid-19 pandemic. The impact of the virus continues to generate elevated volumes, high demand for capacity and increased operating costs across our network," it said.
It added that the new surcharges would enable FedEx "to provide our customers with the best possible service during this challenging time."
A recent report in the Wall Street Journal casts doubts on the company's success in maintaining service levels. It cited data from ShipMatrix that indicate 87% of FedEx's ground shipments from March through to mid-April were delivered on time, whereas similar service from UPS had an on-time rate of 95%. The article also includes numbers from delivery tracking software company Convey, which show a 71% on-time delivery rate for FedEx in April, compared with 88% for UPS.
Critics have argued that FedEx significantly boosted the volumes in its ground delivery system by taking all SmartPost traffic which had been delivered by the US Postal Service in-house, and has also shouldered more volumes from Walmart and Target.
It is not clear if the on-time rate of UPS follows its revised metrics for timely deliveries. When the integrator reinstated delivery guarantees in April, it moved the goalposts for afternoon deliveries. Instead of a 3pm target, it henceforth considered any afternoon delivery on time as long as it reached the destination before midnight.
Both FedEx and UPS only partially brought back their service guarantees, which had been suspended last spring after the outbreak of the pandemic. According to one observer, they did not bring back money-back guarantees for second- and third-day air services, nor for their ground services, which make up the bulk of their traffic.
Like FedEx, UPS is not averse to surcharge increases. This month it raised surcharges on international shipments to the US from a number of origins, including Hong Kong, China and Taiwan.
FedEx's new peak surcharges are set to remain in place until further notice. This would appear to be a 'new normal' for additional levies associated with peak traffic. Both US integrators extended their traditional peak season surcharges indefinitely beyond the customary mid-January cut-off point this year.
At the earnings call following FedEx's quarterly results announcement in March, Brie Carere, executive VP and chief marketing & communications officer, highlighted the role of peak surcharges: "We continue to manage capacity at FedEx Ground, prioritising our highest-yielding segment, as well as our premium home delivery product. As we plan for peak of fiscal year 2022, our peak surcharges will continue to play a critical role," she said.
For shippers, the latest round of increases brings considerably more pain, especially those with high volumes of traffic. Coming on the heels of earlier price increases and refusals to accept traffic beyond contracted volumes, many are desperate to find alternatives, said John Haber, CEO of parcel logistics consultant Spend Management Experts.