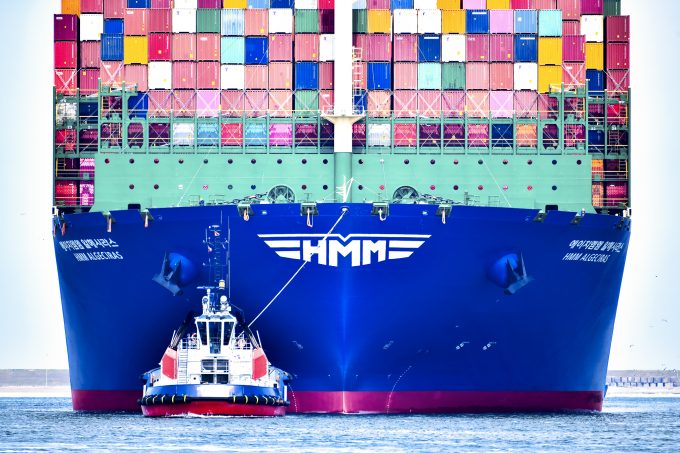 HMM has placed a $1.1bn order for nine 9,000 teu methanol-fuelled container vessels at compatriot South Korean shipyards, as well as an agreement to fuel them with methanol from Hyundai Corp.
A spokesperson for HMM told The Loadstar in December that it was increasing capacity, explaining: "HMM is considering a range of options, according to its medium-to-long-term strategy, which includes building its fleet from 820,000 teu to 1.2m teu by 2026."
The movement toward methanol power has snowballed following Maersk's 2021/22 orders for 18 16,000-17,000 teu  vessels from shipyard HJ Shipbuilding & Construction.
Along with HMM this month, another line, thought to be CMA CGM, has placed a $2.05bn order for 12 13,000 teu methanol-fuelled vessels at Hyundai Samho, which will build seven of the HMM vessels. The other two will be constructed by HJ, all for delivery between 2025 and 2027.
HMM said they would be operated on routes to South America, India and North America, with a focus on green shipping corridors between Busan and key ports in the US.
'Blue' methanol (CH3OH) can be made by combining carbon dioxide with renewably-generated hydrogen and has improved thermal characteristics. Although methanol's CO2 emissions at the funnel are comparable with marine gas oil, it is thought that making methanol using circular-economy feedstocks, such as biomass, will be one route toward offsetting further extraction of fossil oil and gas.
Hyundai Corp will be providing the methanol fuel for the ships, alongside a handful of other companies, including Thailand's PTT Exploration and Production and European Energy, which operates widely in the Americas.
Various Hyundai divisions are working on commercialising carbon capture and utilisation (CCU) technologies, one step in the production of blue methanol. Hyundai Engineering and Construction is working on a design for a carbon-capture device which would sequester 90% of CO2 from an inlet of exhaust gas. Hyundai Oilbank, meanwhile, is seeking to use captured carbon to make construction materials like cement.
"We will continue to drive efforts to support the global community's broader transition to carbon neutrality, while strengthening our fundamental level of future capability in the face of increasingly fierce competition in the global market," said HMM president and CEO Kim Kyung Bae.