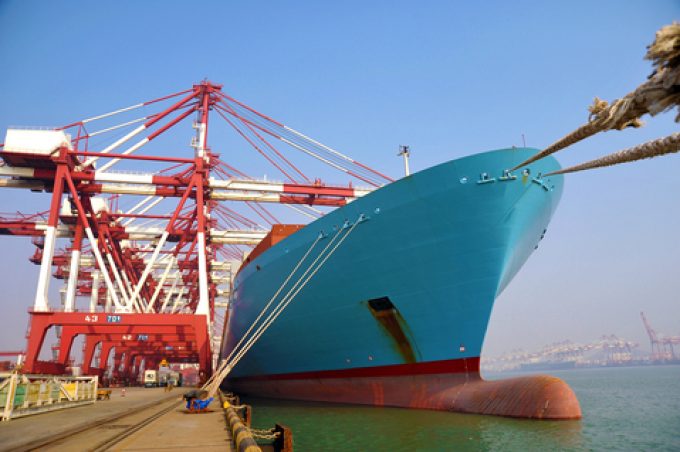 After a three-year hiatus, Maersk has received its first newbuild ULCV with the charter of the scrubber-fitted 15,473 teu Maersk Cambridge.
The Danish carrier took charge of the ship this week from London-headquartered shipowner Zodiac Maritime, and is expected to take delivery of "at least" five more sister vessels under construction at the South Korean yard of DSME, according to Alphaliner.
The daily hire rate and duration of the charter party has not been disclosed, although VesselsValue data indicates a 10-year period has been agreed for the Maersk Cambridge.
Zodiac ordered a series of ten 15,473 teu ships from DSME during 2020 and 2021, at the 'bargain price' of $108m a unit, with each currently having an asset value of more than $200m.
Charters for the four remaining ships have yet to be made public, but in today's bullish market there would be no shortage of interest.
"The 10 vessels are part of a wider 20-ship series for Zodiac that will include 10 units of a very similar design, but with LNG dual-fuel propulsion," said Alphaliner.
Maersk is most unlikely to be involved in the charter of the LNG-powered ships, as, unlike 2M partner MSC and rival CMA CGM, it does not see the fuel as a transition option towards its decarbonisation targets.
Instead, Maersk has pinned its colours on vessels powered by green methanol, with a newbuild order of 12 16,000 teu ships, and is also understood to be negotiating newbuild contracts for more.
Nevertheless, although a number of its ships on charter are fitted with scrubbers, it is surprising, given its hitherto negative views on the technology, that the newbuild long-term charters from Zodiac are equipped with the exhaust gas washing systems that will allow the vessels to consume heavy fuel oil (HFO) within IMO regulations.
However, the gap between the price of HFO and low-sulphur fuel (LSFO) has widened to more than $300 per ton, putting carriers that operate scrubber-fitted ships at a considerable operating cost-, and thus unit cost-, advantage over the LSFO-operated ships of their competitors.
Meanwhile, MSC appears to have no such qualms over the fuels to power its ships, with several of its newbuild orders, both owned and long-term chartered, expected to run on LNG. Moreover, MSC has long been an advocate of scrubbers, with its CEO famously calling the decision to retrofit ships with scrubbers as "a no-brainer".
The Geneva-headquartered carrier has by far the largest orderbook of its peers, with a massive 1.5m teu of new capacity being delivered over the next few years. MSC's orderbook alone would rank it as the seventh-biggest carrier and, if combined with its current fleet, would take its capacity to 6m teu.
Having overtaken Maersk this year to be the largest carrier, by reason of its second-hand vessel acquisitions, MSC has pulled well clear of its 2M partner's current fleet capacity of 4.3m teu and orderbook of just 300,000 teu.