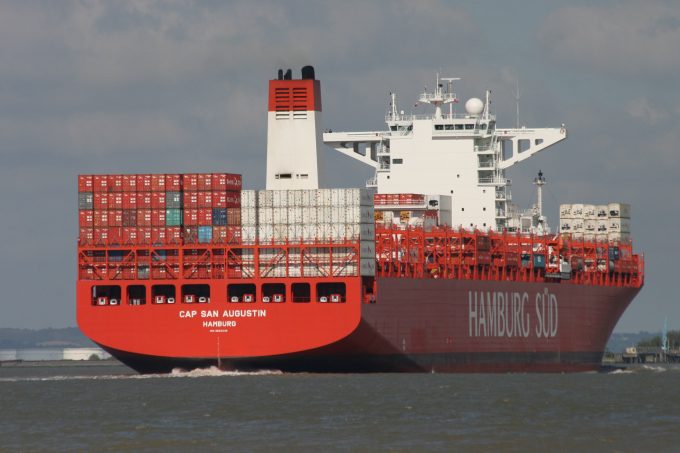 Maersk is to reflag its recently acquired Hamburg Süd containerships away from the German registry, despite its promise of a "light-touch" acquisition.
Maersk Line confirmed last week its intention to reflag a number of Hamburg Süd vessels, including 10,600 teu flagships Cap San Juan, Cap San Lazaro and Cap San Vincent, to either Danish or Singapore registration early next year.
The decision – which it said was in line with Maersk Line's "flagging strategy" – will add to concerns in Hamburg about the acquisition of the 150-year-old niche carrier, not least as it comes so soon after the closing of the transaction.
From the moment the deal was announced a year ago, Maersk executives, including chief executive Soren Skou, have repeated the "light-touch" mantra when it came to the post-takeover status of the iconic German brand.
Mr Skou said last week: "Hamburg Süd is an outstanding brand with high quality products. By combining our two businesses we will reinforce the global positions of both companies and enhance our service offers towards customers."
The Danish group learned some very painful lessons from the acquisition of P&O Nedlloyd in 2005, when it struggled to integrate the carrier, resulting in a significant loss of the Anglo-Dutch line's customers.
And, recently referring to its merger with UASC, Hapag-Lloyd chief executive Rolf Habben Jansen said "it was the priority to hang onto volume in any merger".
He also suggested Maersk's acquisition of Hamburg Süd would present "some opportunities" for Hapag-Lloyd in Latin America.
Both Maersk and Hamburg Süd executives pledged that the German carrier would "remain a commercially independent company", with its own sales and marketing and customer service departments, a policy it said would also extend to IT, HR and finance.
"Our customers will continue to be very clearly front and centre for us in the future too," said Dr Arnt Vespermann, the newly-appointed chief executive of Hamburg Süd.
He attempted to further reassure customers and employees, advising that "there will be no change in the product they are accustomed to receiving from us", which he said would be due to the "great experience and expertise of our employees" and their "deep understanding of the markets and the needs of our customers".
Moreover, in an article on the carrier's website, "Hamburg Sud to remain Hamburg Sud", chief commercial officer Frank Smet said in a video presentation that nothing would change following the change of ownership, with existing contracts remaining valid.
He added that the "familiar red vessels" would remain, but made no reference to flag changes.
According to vesselsvalue.com, Hamburg Süd's fleet of 47 container vessels, includes 12 registered in Germany, 15 registered under the Liberian flag and four Brazilian-flagged.