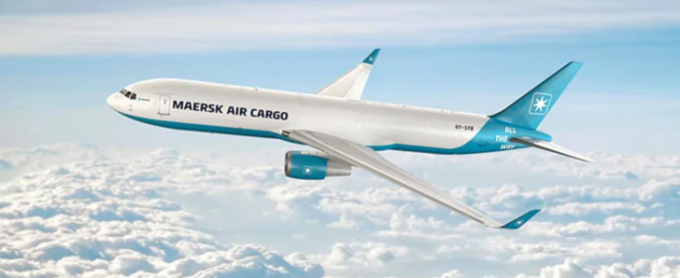 One of Maersk Air Cargo's three leased 767-300 freighters, to be operated by Amerijet, arrived yesterday at Miami, Amerijet's base.
According to CH Aviation, one has already delivered and a third is yet to arrive.
Maersk said the first routes would be transpacific, 18 two-way flight sectors between Hangzhou and Shenyang in China, Incheon and two US gateways – Chicago Rockford and Greenville-Spartanburg.
Maersk this month opened its Chicago Air Freight Gateway, outside O'Hare Airport, serving as its hub for Rockford, the rapidly expanding and cargo-focused secondary airport.
Although two aircraft are thought to have now been delivered, Maersk said this month it would not start flying until early 2023, and didn't respond to a request for comment before publication.
According to an update from Flexport this week, demand from Asia to the US is currently soft, especially for the US Midwest and east coast.
The TAC Index, however, has seen rates rise slightly in the past week, with China to the US up 8.3%, to $7.02/kg – but this is 37.6% lower than last year. Hong Kong to Chicago edged up 1.2%, to $6.11, while Shanghai to Chicago rose 12.6%, to $6.36.
Flexport however said it expected rates to "continue trending down in November", but noted that transpacific eastbound from Taiwan had picked up and demand on westbound was "causing the market to be quite tight".
Out of Korea, the eastbound transpacific is soft, "but several large ad-hoc requests have caused the market rate to increase compared with last week"; while westbound, it added, continued to be soft except for direct services to Amsterdam.
Several major Chinese cities are in various stages of lockdown, which could also impact the market.
Globally, air freight rates "firmed up a little in the past week", according to the TAC Index.
It said: "Sources said the firmer tone reflected a small uptick going into the long-awaited peak season ahead of Thanksgiving in the US and the Christmas period – although the market was still digesting the likely impact of the Chinese party congress, with Covid protocols still causing supply chain problems in China."