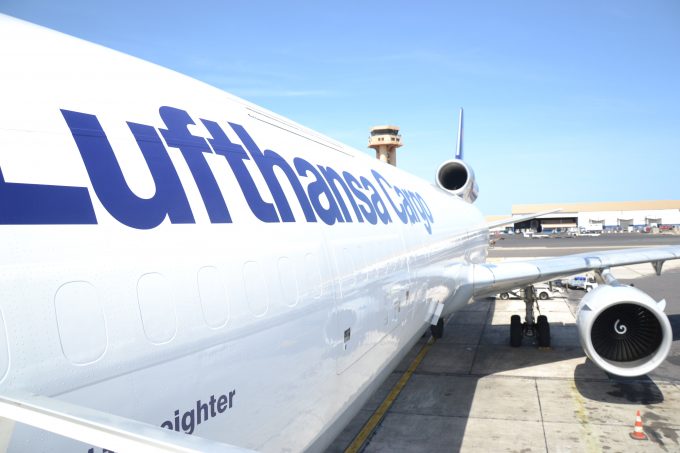 Anecdotal reports from forwarders that Lufthansa Cargo has been offering below-market rates in an attempt to boost volumes are supported by the carrier's poor first-half results. 
Lufthansa's logistics business shows revenue down 5% to €1.23bn ($1.37bn), while operating expenses rose 6% to €1.28bn, resulting in a 93% fall in ebit to just €9m. Adjusted ebit fell 88%. 
Capacity, meanwhile, measured in available cargo tonne km, rose 9%. Load factors fell 6.1 percentage points. 
Its biggest problems were in Asia Pacific, where Lufthansa Cargo's first-half revenues fell 13% to €465m, and revenue cargo tonnes km (RTK) fell 7%. It will be interesting to see if its closer cooperation with Cathay Pacific gives these numbers a boost in the future.
Its greatest growth, with revenues up 40% to €109m, was in Middle East/Africa, likely a result of taking on Brussels Airlines bellyhold capacity  which also caused costs to rise. In the Americas, revenues fell 5% to €489m, while in Europe it fell 1% to €95m. 
Lufthansa said the cargo business was down due to "lower economic growth and market uncertainty in the face of trade conflicts and Brexit".
But while Lufthansa RTKs were down 1% overall, it pointed to IATA figures showing that ,globally, airlines were down 3% in the first five months of the year.  
It said that "the renewal of its freighter fleet continues". It took on two 777Fs in spring and added another to Aerologic's fleet.
It said: "Lufthansa Cargo responds to weaker market demand by adjusting flight timetables and reducing use of the MD11 freighters; two MD11 freighters are to be retired by year-end 2019." 
It added that it would continue to make efficiency improvements and cut costs, while "implementing optimised capacity planning". Lufthansa Cargo also has a new subsidiary, heyworld, for e-commerce. 
Logistics accounts for 6.9% of Lufthansa Group business by revenue – and the other divisions also had a dismal first half. The group made a loss of €116m, down from €713m a year earlier. Ebit fell 60% to €417m, on total revenues up 3% to €17.5bn. The second quarter saw profits fall 70% to €226m on revenues up 4% to €9.6bn. 
The executive board explained: "The European airline industry is currently facing numerous challenges that are also affecting the course of business at Lufthansa Group. The main reason for this performance was the difficult market situation in Europe, in addition to higher fuel and MRO expenses." 
The carrier added: "[The] macroeconomic situation continued to decline globally, and particularly so in Europe and Germany; contributing factors include trade conflicts and uncertainty concerning the effects of Brexit." 
Lufthansa said it would sell six of its 14 A380s back to Airbus in 2022 and 2023, while adding 20 A350-900s between 2022 and 2027. It is also acquiring 20 787-9s in the same period. 
For the outlook, LC said: "Weaker demand in the freight market caused yields to fall in the first half-year. Depending on further macroeconomic developments and the outcome of the trade conflicts, there is a risk that this trend will continue for longer and be more pronounced than expected. 
"For the freight sector, IATA assumes that global RTKs will be at the same level as last year; in 2018 they increased by 3.4%." 
You can read the full report here.