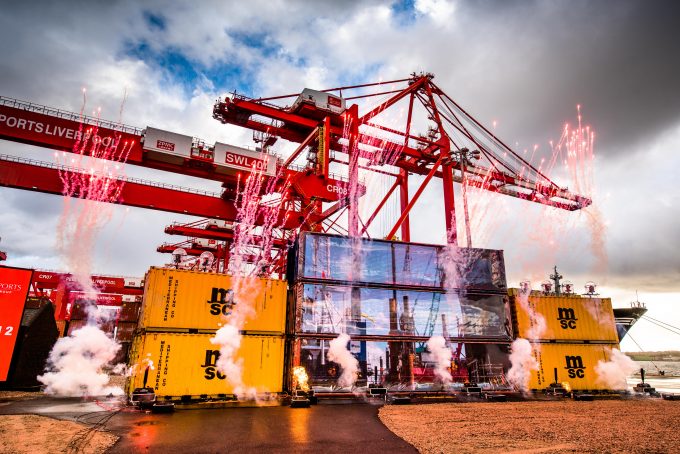 Liverpool's maritime community is confident in its ability to capitalise on its new deepwater terminal, but admits it will need to tempt shippers and carriers up from the UK's southern ports.
Peel Ports opened its £400m deepwater container terminal, Liverpool 2, in November, with strategic projects director Gary Hodgson believing the rationale for shipping through Liverpool is obvious.
"90% of deepsea cargo lands at the UK's southern ports, but 50% [some put this figure as high as 60%] is bound for the north," said Mr Hodgson.
"Similarly, exports manufactured in the north or Midlands are shipped out through the south."
Leader of Wirral Council Phil Davies said the region's public and private sectors had forged strong links and a fantastic working relationship to drive positivity and promote Liverpool's potential.
"There's a real determination to put the past behind us and cast off the image Liverpool once had as a strike-prone city reliant on the public sector," said Mr Davies.
"We are working with all our partners and there is a real positivity, with the new port facilities acting as our USP."
Mr Hodgson said despite the habitual use of trucking for shipments between the north and the south, cargo owners were questioning both the reliability and carbon intensity of inland logistics.
"It is well documented that inland logistics is becoming less reliable, more expensive and more carbon hungry," he continued.
"A significant number of cargo owners are demanding 'less inland miles' as part of their logistics solution, which in effect delivers a cleaner, more reliable and certainly more cost-effect proposition. Liverpool 2 offers such a solution."
Group finance manager of Mersey Forwarding Dave Hale said while his company was more reliant on London, Southampton and Felixstowe, this was not due to any decision by the company.
"Indeed, the fact that we have our very own 40,000sq ft port logistics hub means we would prefer it if more of the cargo we routed came to Liverpool, so that we could handle it ourselves, in terms of destuffing containers, palletising, storing and distributing the cargo," said Mr Hale.
"But the reality is that the manufacturers and importers we deal with are principally concerned with price and quicker transit times."
Longer transit times from the east to Liverpool would always provide a competitive advantage to the south, said Mr Hale, but Liverpool councillor and assistant mayor Gary Millar said there was a solution.
"We need to attract the ships to come through Panama as opposed to the one-belt, one-road route," said Mr Millar, who claimed this would save carriers 20% in costs.
Peel Ports' chief operating officer Patrick Walters said the port operator had been talking to a number of shipping lines about "several" service options for Liverpool 2.
"When the initial business case as developed, we identified six or seven market scenarios that could involve Liverpool 2; for example, utilising the Panama Canal to capture products like wine, fruit, vegetables and meat from the US west coast, South America, Australia and New Zealand," said Mr Walters.
"Another scenario was the introduction of mega-feeder vessels, including transhipment from southern Europe or India and so on."
Mr Walters said the development of Peel Ports' Cargo200 Initiative was demonstrating to carriers the strength of demand for Liverpool services from more than 200 local, regional and national businesses.
"Cargo200 represents 1.5m teu of trade, supporting the campaign for direct deepsea services at Liverpool, helping to remove 200 million unnecessary UK road and rail miles by 2020," he added.
However, in the absence of a commitment from one of the world's largest shipping lines, Mr Hale said it was slightly more difficult to promote the port of Liverpool.
"Our hope is that sooner rather than later one of the big lines follows in the slipstream of ACL and gives Liverpool a try," he added.
Mr Davies believes the UK's impending divorce from Europe, as well as the huge boost in infrastructural spending from the government, may also aid the city.
"Brexit, HS2 [the UK's new high-speed rail link from London to the north] and the new port gives us the potential to lure those carriers up here," said Mr Davies.
"We've lobbied for more freight on rail, and possibly the biggest boost to the northern powerhouse, with Liverpool acting as the gateway, would be high-speed connections between east and west."
In March, Anglo-American partnership Direct City Networks submitted a proposal to Transport for the North – a governmental body aimed at boosting infrastructure – for an underground rail system that could connect Liverpool to Hull in just 29 minutes.
"This would be transformational for the north," said Mr Davies. "And the Treasury has listened to the idea. The one issue after the election will be keeping the pressure on government for the big-ticket items and not letting Brexit force them to the back of the queue."
Mr Hale said both the port and city of Liverpool were very much open for business, and described the city's transformation since its 2008 nomination as European City of Culture as "staggering".
"As a Liverpool forwarder based on the Mersey, we can only continue to spread the message that 'Liverpool is back'," said Mr Hale.
"Though we'd not actually gone anywhere in the first place – but now we are really going places."