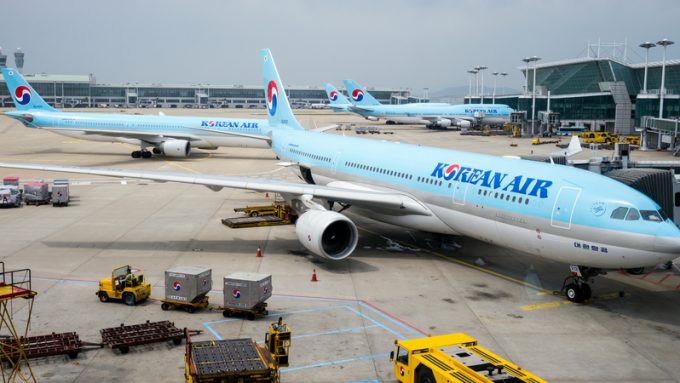 Korean Air has reduced flights to Japan and expanded cargo services to South-east Asia and South America in the wake of a second trade war front opening up over the summer.
With demand impacted by both the US-China dispute and an emerging trade spat between South Korea and Japan, the carrier said it had reduced or suspended a string of passenger flights to Japan from September, while launching twice-weekly freighter services to Manila and Bangkok.
"We also increased freighter frequency to South America, from twice to three times a week from 23 August, as trade disputes are less influential there," said Sam Noh, senior vice president and head of cargo business at Korean Air.
"In the second quarter, demand from South-east Asia increased slightly. This could be attributed to a rise in demand for South-east Asian markets as substitutes due to the trade war," he added.
He said the demand for electronics, machinery and garments from China to the US also declined, as well as demand for US agricultural products to China.
"The prolonged trade dispute between the US and China, and emerging Brexit issues mean global economic uncertainty has increased and is a factor which can be seen across many industries.
"In addition, there was a semiconductor industry boom in 2018, but the price of semiconductors fell this year and, as a result, this industry shrank, at the same time the demand for electronics and automobiles also decreased," Mr Noh explained.
Korean Air's first-half cargo volumes suffered as a result, with freight-tonne km falling 10.7% year on year, and revenue down 9.6% to KRW1.27trn (US$1.18bn). The drop in demand at the start of the year led the carrier to suspend cargo operations at three domestic hubs.
Political tensions between Seoul and Tokyo have further compounded the airline's troubles. Last month South Korea removed Japan from a list of preferred trading partners, a move it says was in retaliation to Japan's earlier decision to revoke Korea's trusted trade status.
The trade spat is said to be linked to a row over Korea's World War II reparations claims, although Tokyo insists its export control measures against Korea are a separate issue.
Mr Noh said the row would impact peak season.
"It is not easy to expect the normal peak season in the second half, due to tension between Korea-Japan, in addition to the US-China tensions.
"New forms of demand, however, from e-commerce and cold chain demand for pharmaceuticals and fresh cargo are expected. Cargo traffic between Asia and Europe is also expected to grow as a substitute for the Pacific route of US-China trade," he noted.
Korean Air operates a fleet of 23 freighters, including 12 B777Fs, 7 B747-8Fs, and 4 B747-400ERFs. Mr Noh said the carrier would keep its freighter fleet at this size "for a while".
However, 40% of the carrier's cargo capacity is from passenger aircraft, and he said this proportion is expected to grow "in due course" with the arrival additional widebody passenger aircraft.