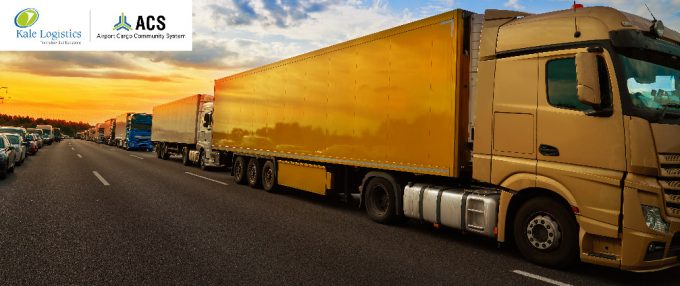 PRESS RELEASE: MUMBAI, February 23, 2021: Kale Logistics Solutions (Kale), a United Nations award winning, trusted global IT solution partner for several Fortune 500 companies worldwide for the Logistics Industry, has launched the next generation upgraded Artificial Intelligence based truck slot management through its flagship Airport Cargo Community System (ACS) to avert truck congestion in Airports across North America and other large airports of the world.
Truck congestion is a big problem behind the scenes at some major U.S. airports. The coronavirus forced big industry changes that have exacerbated existing inefficiencies due to poor coordination and infrastructure. Long Truck wait-times are a growing problem for Airports and the allied supply chain stakeholders like Transporters, Customs Brokers, and Freight Forwarders. Truckers are waiting in line for hours to pick up and drop off cargo at Airports in North America. Airfreight customers already pay a premium for expedited service, so delays can be particularly costly.
International passenger terminals may have little traffic, but at some airports there is so much cargo that frustrated businesses have to wait days for medical supplies and other imports arriving on planes. The unusually heavy cargo volume, driven by a surge in medical supplies to combat the coronavirus pandemic and e-commerce orders from homebound consumers, has exposed long-standing, systemic inefficiencies at major hubs.
Manual intervention and document processing further affect the efficiency and the time consumed in cargo handling. Data entry at various stages consumes around 22 hours per shipment. The absence of proactive information to the cargo terminal operators leads to inefficient personnel and asset planning at the gates, peaks and idle times, and long waiting times for freight handlers or trucking companies.
Kale Logistics Solutions' all new Artificial Intelligence based Truck Slot Management for Air Cargo helps ground handlers, freight forwarders, and trucking companies to better coordinate their landside freight management so that they can eliminate waiting times and smoothen peaks and idle times.
These stakeholders coordinate freight handling processes through an online slot booking application that streamlines the truck flow from and to the airport. All slots and their statuses (available, reserved) are presented in an intuitive calendar with day, week, and month views. The ground handlers can make slots available in line with their capacity. Handlers have a clear overview of and proactively receive information about all bookings, so they can organize personnel and assets at the gate accordingly. Drivers can use mobile apps for check-in and check-out which is powered by Geo-fencing technology.
Donna Mullins, Vice President of Kale Info Solutions (USA) said, "As we all rise to a new normal, the importance of technology adoption is surging. Therefore, the need for cargo community systems, cargo handling systems, and other community-based solutions are gaining traction. Truck Slot management module in Kale's ACS is a unique mechanism to overcome truck congestion outside airports and eventually operational delays."
Talking about ACS, Amar More, CEO of Kale Logistics Solutions said, "ACS by Kale is a unique solution specially crafted for all air cargo stakeholders. Our Next Generation ACS has been empowering the airport communities across North America, South America, Europe, Middle East and Asia and helping the communities cope up with several issues like truck congestion, paperwork, supply chain opaqueness, security etc. It has helped the airports significantly enhance their throughput with the existing infrastructure. We are working closely with the North American air freight communities & airports to leverage the deep tech interventions like Artificial Intelligence, Machine Learning in solving their problems."