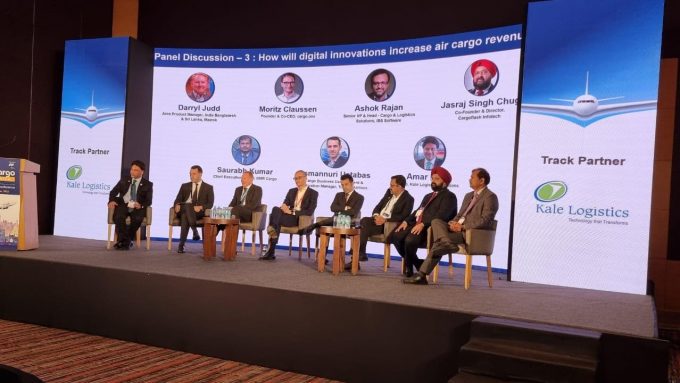 Kale Logistics Solutions looks set to sign on a deal to bring an airport cargo community system to Chicago Rockford Airport. "The agreement is in process," confirmed Amar More, chief executive of the Mumbai-based tech company.
In addition, Kale is thought to be tendering for Kenya's new airport development project, though Mr More was non-committal about this.
Mr More, speaking to The Loadstar on the sidelines of Air Cargo India last week, said technology would transform "the way business operations and B2B transactions are executed in the logistics industry".
"One of the most relevant offerings from our ACS [Airport Cargo Community System] is Truck Slot Management. Here, all truck arrivals and departures are managed as per slots to avoid any gate congestion," said Mr More. "Truckers experience much lower wait times at the terminal gates and all documentation is pre-done before the truck reaches the terminal."
Mr More also noted that the development of seaport and airport community systems – a sea-air corridor – has the potential to become a trade enabler, despite some obstacles in the way centring on customs clearance procedures.
"With seamless data flowing from each mode, the corridor promotes streamlined clearance procedures, optimised logistics, and full digitisation to achieve an end-to-end lead time of just a few hours for goods transiting from the seaport to airport and vice versa," Mr More noted.
"These gains can translate into a 50% reduction in average lead time compared to pure sea freight and a 40% reduction in cost compared to pure air freight."
"Sea-Air Corridor is the platform that connects both these modes of transport to form new synergies in the supply chain. This link will establish seamless cargo movement with advance information sharing and connect the relevant stakeholders from both the modes," he said.
According to Mr More, an uptick in cargo volume levels at busy airports augurs well for the industry. Mumbai airport saw international cargo loads increase 30% y-on-y to about 770,955 tonnes in fiscal year 2021-22.
Meanwhile, India is moving fast on its plans for the new Noida International Airport (NIA), near Delhi, having selected Tata Group as the construction partner last week for the project, designed with an integrated multimodal cargo hub. Cargo-handling capacity is currently targeted at 2m tons in the initial phase, going to up to 8m tons a year in stages.
According to industry sources, a WFS-Allcargo consortium, DP World and Maersk are some of the lead suitors for the proposed cargo terminal, as the newfound supply chain integrator play increasingly adds air freight options.  However, no official information was immediately available.
Air Cargo India, which highlighted the value of digital innovations, coincided with Kale reaching another milestone, bagging its 100th airport cargo station client – GMR Cargo Hyderabad International Airport (GHIAL).  With this addition, in India, Kale offers cargo management systems and air cargo community systems to 12 major airports, including Delhi, Mumbai, Bengaluru, Goa, Ahmedabad, Kochi and Chennai.
You can contact the writer at [email protected].