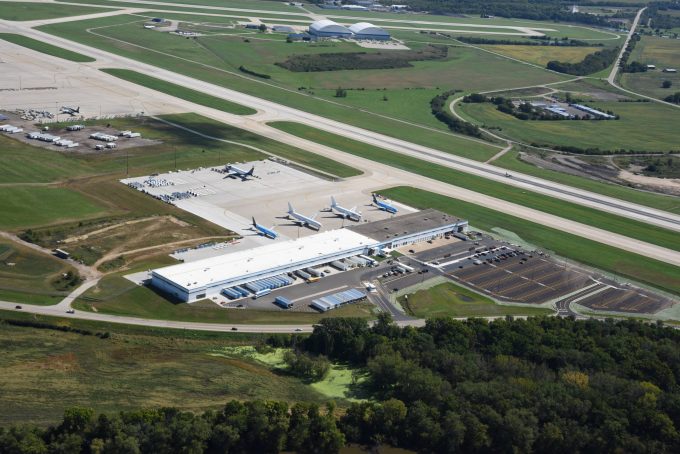 Forwarder-controlled airfreight and the lack of belly capacity is boosting demand for cargo airports, with Chicago Rockford (RFD) enjoying accelerated success.
As a result, the Amazon and UPS hub is to start building a cargo community platform and adding a multinational handler in its aim to become the "highest-quality cargo airport in North America".
Business has been brisk at the (mainly) cargo airport, located 68 miles from Chicago, and the area is starting to attract major BCOs looking for freighter transport.
It has long been a favourite of UPS, which looks set to expand at the airport this year with more flights and larger aircraft, and has up to 40 daily flights, while Amazon has nine daily 767s.
"But our real breakthrough was the arrival of Senator," explained Ken Ryan, director of business development. "It started with a couple of flights a week from Germany. But before Senator had signed, we decided to start to build a 90,000 sq ft (8,360 sq metre) facility."
Senator, now owned by Maersk, although still operating as Senator as the deal goes through,  took 60,000 sq ft (5,575 sq m), with the remainder taken by handler Emery Air.
"But Senator carried other forwarders on its flights, including DB Schenker. Then DB Schenker started its own flights and, in April, will take on a building with handler Emery." DSV also has a presence.
Mr Ryan, speaking on the sidelines of the Tiaca executive summit in San Francisco, said: "We are very excited about the potential. Maersk now owns Senator, which we are also excited about as Maersk has done very well, and there is real potential for an end-to-end ocean and air logistics product. We are also seeing BCOs attracted to the area and now lots of forwarders have started their own flights. It's a paradigm shift in the market; I've never seen anything like this in 40 years of working in air cargo.
"There is a shift away from passenger hubs, which is exciting for us."
The airport is in the process of selecting a new handler, as well as a tech company to implement a cargo community system.
"We are in discussions at the moment. They must have safety, security and quality management systems in place and must join the cargo community we are in the process of developing. We intend to become the highest-quality airport in North America. Our aim is very high throughput, highly secure and no freight missing or damaged."
As with many airports – in particular its nearest rival, O' Hare – the airport faced challenges during parts of the pandemic. The use of passenger freighters, and too much demand, overwhelmed the handler.
"People were begging for them to handle freight, and they made the mistake of allowing more than they could cope with. But Emery really turned it around, and it is now doing a great job. But we do want competition at the airport."
RFD is also in the process of awarding a contract to an IT company for its cargo community systems, with companies such as Kale Logistics and Nallian in the frame.
RFD is building more facilities, both on and off the airport, but one of its best selling points, claims Mr Ryan, i s the lack of congestion in the air and fuel savings for airlines as a result, as well as good onward connections.
"We have our own airspace. It's also five minutes from wheels down to engines off, which saves a lot of fuel. We've heard of airlines waiting 70 minutes at ORD after landing. That's a lot of fuel burn. And, because it is quick to take off, you only have to de-ice once. We've calculated that an airline bringing in one daily freighter could save $6m a year because of lack of congestion."
He added that the airport benefited from its proximity to O'Hare, with good road feeder services. It also has a rail line, and the airport is looking at the viability of bringing in sustainable aviation fuel by rail. It is also introducing hydrant fuelling on its centre field.
Mr Ryan acknowledges that the airport will get busier, but adds that currently, in busy periods during the night, it is only operating at 25% of capacity – "And with a cargo community system, we'll reduce truck waiting times and improve processes."
He said he was learning from other airports, such as Leipzig and Liege.
"Liege had explosive growth, so I am going there to see what worked and what didn't, and see the off-airport facilities."
RFD has also seen explosive year-on-year growth, up 55% in 2018, 9.5% in 2019, 17% in 2020 and 25% in 2021. It is already 25% up on last year, but Mr Ryan added that it was more likely to level out at about 10-15% growth this year – assuming no new business. But he added that he still appreciates his original customers.
"UPS is like the wife you love dearly. Amazon has been the sexy blonde that catches your eye."