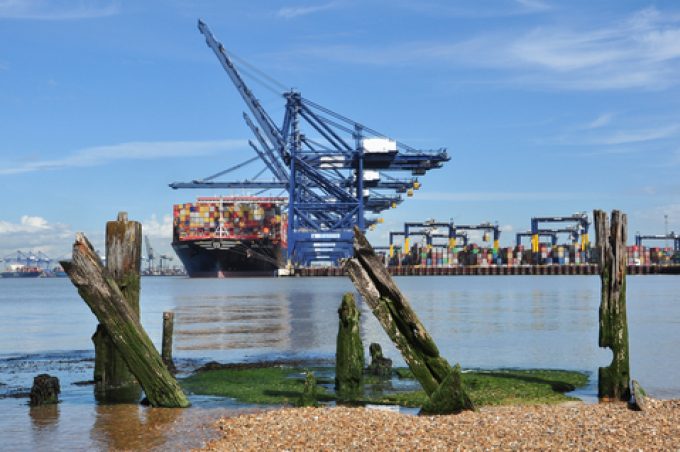 The UK's main container ports are overwhelmed with unclaimed imports and starting to refuse the restitution of empty boxes urgently needed back in Asia.
And other North European ports are also heavily congested, but the acute HGV driver shortage in the UK has extended container dwell times significantly in past weeks, with the country's main box hubs now "in danger of grinding to a complete halt", according to one industry observer.
Yesterday, Felixstowe suspended the restitution of Evergreen, Maersk and CMA CGM empty returns.
Other carriers are also expected to be restricted by the port, but there is no indication as yet that there could be a blanket stop on receiving empty equipment, or that export deliveries could be halted.
In a customer advisory, Evergreen says the block on the return of its empties at Felixstowe was "due to the large volume of import containers coming into the port" against the backdrop of "a well-publicised national driver shortage".
It added: "Import container dwell times are increasing as a result and causing port congestion."
The carrier said that since the Felixstowe gate had closed, its restitution team had received "a surge of e-mail enquiries" and asked customers to "bear with us" while it processed them.
"Unfortunately, we have no choice but to temporarily direct all empty units to Tilbury, Liverpool, Teesport and the port of Tyne," it said, adding that the drop-off locations were "subject to change", and suggested that customers "contact our restitution team before returning any containers".
Evergreen said it would contribute to the extra costs by waiving drop-off charges at the new locations, but shippers are being saddled with substantial additional wasted journey and additional haulage charges. Indeed, one forwarder told The Loadstar the extra cost was as much as £500 ($680) per box.
"Merchant hauliers are killing us, charging between £300 and £500 additional for redirecting the empty to another port," he said.
Meanwhile, in a customer advisory today, Maersk says the empty stop at Felixstowe was due to "the high volume of empty containers on the terminal", adding: "In giving you this information we hope to avoid further congestion and port congestion.
"We advise that you steer merchant haulage empty returns to London Gateway," said the carrier, adding that it could also accommodate empty restitution at its feeder ports in the north of the country.
"We understand that this is far from ideal and continue to follow the situation closely with the port, and are looking at ways to reopen as soon as possible," said Maersk.
Another forwarder said: "It's getting worse at Felixstowe as the day goes on – now you can't deliver boxes back there and hauliers are in the wrong places, which is also having further impact on tonight/tomorrow's collections.
"It's going very much 'tits-up' very rapidly, with knock-on effects causing greater disruption than the obvious congestion – it's all being pushed back through the chain. This will be a major issue by next week, I suspect."
The Loadstar understands that some carriers are now considering skipping UK port calls until the import backlog eases, overlanding containers at Rotterdam or Antwerp for eventual relay back to the UK.
The diversions and lengthy delays in relay will constitute a serious threat to the UK's Christmas market.
The port of Felixstowe issued this statement to The Loadstar. "We have recently increased storage space available for empty containers and have been in constant dialogue with all our customers in recent weeks about increasing numbers of empty containers on port. Each customer knows what capacity is available within its own allocation and manages its stock accordingly."
Meanwhile prime minister Boris Johnson yesterday denied there was a crisis, but also said that the UK's "world leading" logistics industry could fix it.
But one UK forwarder said the prime minster was "deranged".
"Bob the builder, I am not," he added.