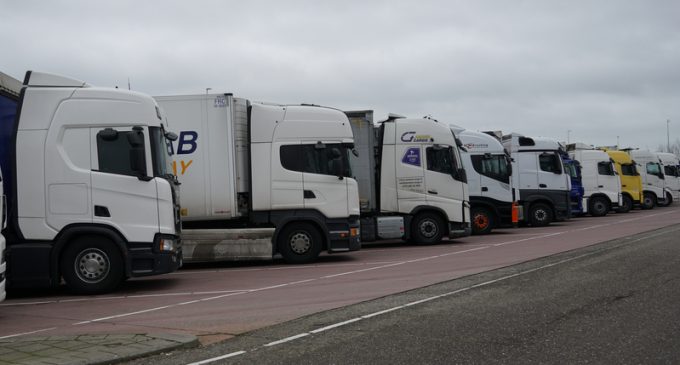 Road freight representatives have renewed their calls for governments around the world to provide more financial support to hauliers amid warnings of widespread bankruptcies.
According to new research from the International Road Transport Union (IRU), the global road freight sector is poised to post a combined loss of $679bn this year.
This updated figure is some 18% greater than the IRU's June forecast of $643bn.
Despite the mounting losses, the IRU said governments around the world had done little to help a sector largely comprising small to medium-sized enterprises (SMEs).
"The vast majority of the more than 3.5 million road transport companies we represent are SMEs, and they are the glue that holds global supply chains and mobility networks together," said IRU secretary general Umberto de Pretto.
"Most are struggling to pay their bills and this is a huge threat to the global economy.
"Without immediate government action, a shocking number  will go bankrupt in the coming months, causing irrevocable damage to supply chains and mobility networks, therefore devastating the global economy," he added.
The IRU research shows losses have particularly ballooned among European hauliers, which are expected to post a combined loss of $125bn this year – although that is dwarfed by the projected $379bn loss Asia's hauliers are expected to suffer.
It says: "There are worrying signs for 2021. Financial indicators paint a bleak road ahead, with high default and insolvency risks facing road transport firms worldwide.
"Despite IRU's previous calls for action, including its ten-point recovery plan from April, most countries have still not implemented targeted measures that sufficiently support the commercial road transport industry.
"Some government rescue packages have focused on facilitating loans, loan repayments and supporting workers. Few road transport operators are benefiting from these measures and urgent action is needed on reducing taxes and charges, as well as cash grants, and insurance flexibility."
The IRU explained that road transport operators in every corner of the world were facing higher risks of defaulting on loans risking widespread insolvencies.
"The most pressing challenge facing road transport operators is liquidity. It is concerning that more than 70% of countries surveyed have not implemented financial support in the form of cash grants for SMEs or goods transport operators.
"This aligns with the view that government cash grants have gone to large "national champions" in air or rail, rather than targeting the millions of smaller road transport operators who together move more goods and passengers," the IRU's research paper said.