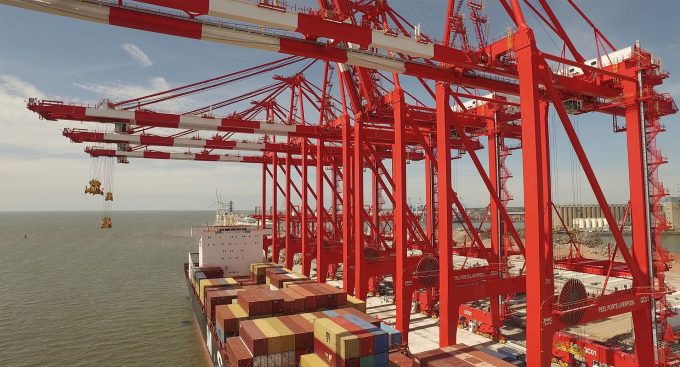 Port of Liverpool owner Peel Ports is set to launch a container rail service to offer shippers integrated quayside-to-inland destination distribution.
Peel told attendees at last week's London International Shipping Week it was in "advanced contract discussions with both a rail provider and shippers, with the aim of running the first services before the end of 2017".
It would be a first for the UK's north-west container gateway, which has spent the past few years touting itself as a port-centric alternative to the southern ports of Felixstowe, Southampton and London.
Jerome Wildsmith, head of supply chain at retailer B&M, said: "Routing through the port of Liverpool has already saved us the equivalent of four million road miles, massively cutting our onward transport costs, reducing the carbon emitted and reducing the likelihood of delays on the UK network.
"We are excited about the possibilities this new service will provide for our growing operation."
Gary Hodgson, Peel Ports' strategic projects director, said: "This is the next step in our journey to provide shippers with a more integrated, end-to-end answer for their cargo needs. It's also an important milestone in our evolution as a company, and underlines how serious we are about being a genuine partner in the supply chain community."
However, he added there were hinterland infrastructure issues that needed to be addressed.
"There are generally good connections on routes heading north and south, but cross-country is a real problem. It's long overdue that the east-west infrastructure was brought into the 21st century so we can expand rail freight usage and reduce the impact of longer-distance road haulage."
Liverpool gained a further fillip yesterday after Dutch shortsea operator WEC Lines announced a new weekly service connecting the port with Huelva, Vigo, Leixoes and Dublin next week, operating 300 teu vessels – although it expects vessels sizes "to grow significantly once trade develops".
WEC Lines MD Nico Valkenier said: "We are delighted to announce a new maritime link connecting both Huelva in the south of Spain and Vigo in the north of Spain with Liverpool and Dublin. In addition, this new service will improve connection times from Leixoes to Liverpool and Dublin."
Last year WEC Lines began weekly calls at Liverpool connecting with Lisbon, Setubal, Leixoes and Sines.
Jouke Schaap, container port director at Peel Ports, said: "This further underlines what we've been saying about how the dynamics of the UK logistics sector is changing. Shipping directly into the north-west of the UK provides cargo owners with the chance to reduce costs, congestion and carbon emissions by getting closer to their end market."