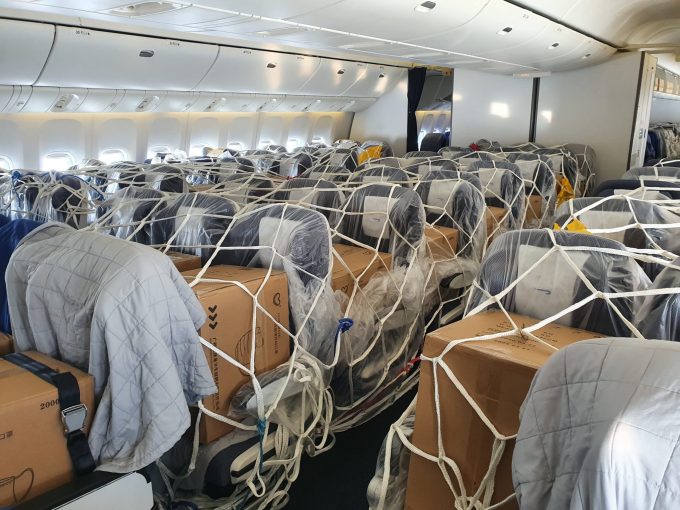 IAG Cargo's 18.5% rise in revenue to €1.3bn ($1.6bn) was severely overshadowed by the group's overall €7.4bn full-year loss.
Passenger revenue dived 75%, from €22.4bn to €5.5bn, while it burned through €4.1bn in cash last year.
Its cargo division, as with other airlines, was the star of the show, as yields rose 94.6%, although tonnes were down 34.9%.
And, as one forwarder noted recently: "If you make more money shipping less cargo, it's a good year. Less risk and exposure."
Forwarders also noted how quickly IAG adapted to the pandemic situation, offering a scheduled cargo network and charter options.
Lynne Embleton, CEO of IAG Cargo, explained:  "Our top priority was to maintain a broad network and product proposition for cargo customers, despite the pandemic.
"Without a freighter fleet, we adapted our operations and quickly established a comprehensive network of scheduled cargo-only flying using the group's passenger aircraft. We identified markets most in need of air cargo supply, where the demand could support the yields required to cover the costs of cargo-only services.  
"In March, we assembled a charter team to develop dedicated capacity solutions for customers and governments. During the year, we operated over 1,000 charters and removed the seats from five passenger aircraft to create even more capacity for our customers."
The fourth quarter was particularly strong, with revenues of €389m, up 36.6%, driven in part by demand for e-commerce, pharma and automotive, said IAG Cargo, which also moved more than 20,000 tonnes of PPE and other Covid-related equipment last year. Its Constant Climate product saw revenue up some 10% on a year earlier.
UK forwarders have also pointed to a need for direct air freight services into and out of the UK. in a bid to avoid trucking in the EU, which involves Brexit-complexities and border delays.
IAG, said one, had managed to offer a reasonable network, whereas Virgin's reach was smaller, and the UK's freighter operator, Cargologicair, had focused on ad hoc charters.