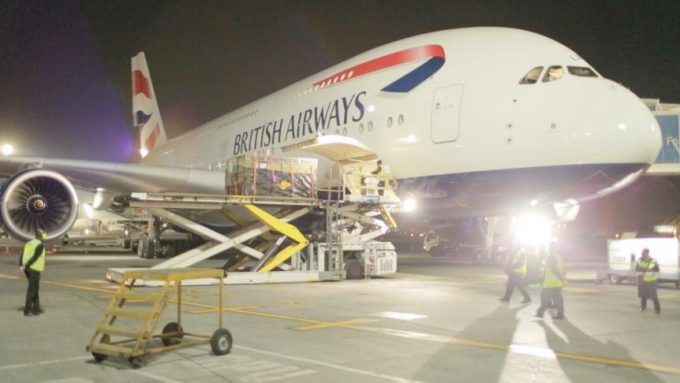 IAG Cargo today blamed "excess capacity and reduced demand" for a 4.6% fall in adjusted commercial revenues in 2015.
While it reported a 3.2% rise in commercial turnover, to €1bn for the year, revenues fell on a like-for-like basis, it said.
Yields were down 4% – not a bad result when, according to WorldACD, air cargo industry yields fell 14% last year. Volumes for the carrier were flat while capacity grew 3%.
In Andrew Crawley's first media statement since taking over from Steve Gunning as head of IAG Cargo in January, he noted "significant price and yield pressures".
As a result, the carrier would continue with a strategy of "aggessive cost discipline" and a focus on premium high-yield products.
Its express product revenue grew 14%, while pharma, in which it has made significant investments, rose an impressive 37%.
"Despite an initial boost from the US west coast port strike, 2015 was a year where the market forces of supply and demand became increasingly imbalanced," said Mr Crawley.
"We have exercised strict capacity management where needed and grown our premium products through investing in infrastructure, network and expertise."
He added: "In 2016 we will be making major infrastructure announcements which will deliver next generation facilities and premium product experience for our customers."
He said IAG was launching new destinations, including Lima, California's San Jose, and Costa Rica, as well as integrating Aer Lingus this year.
"These results show our determination to maximise profitability and our new revenue management system, Optima, allows us to manage our capacity and set price more effectively. It is by enacting sensible commercial policies like this that we are able to reinvest in our products and services."
While one major forwarder told The Loadstar that IAG was "OK", but lagged the quality of service offered by the Gulf carriers, another source noted that IAG Cargo's EuroConnector service, a time-definite short-haul service for shipments under 300kg, was "a smart move".
Guaranteed delivery times together with a simple pricing plan was a benefit for both the carrier and forwarders, he added, and could make the airline money in a market in which others were failing.
"Steve Gunning may have been quiet, but he had some good ideas. I was impressed."
Mr Gunning has become CFO of British Airways. It would appear that Mr Crawley, who came from the passenger side – and, according to a source at LHR, didn't see Cargo as his dream job –is sticking with the same strategy.
"IAG Cargo's model and clear strategic direction has proven its worth in 2015 and we remain confident that the right strategy is in place for 2016," he said.