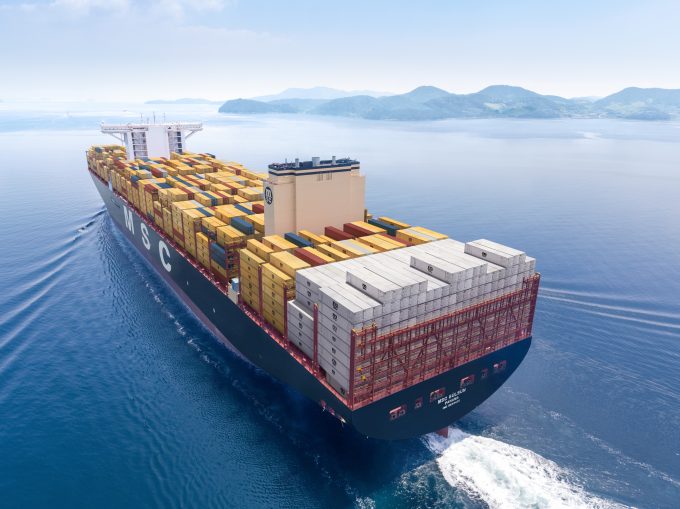 South Korean carrier Hyundai Merchant Marine (HMM) is set to take the crown as operator of the world's largest containership in April when it takes delivery of the HMM Algeciras.
According to a research note from Alphaliner today, the line disclosed that the new vessel, the first in a series of seven under construction at the DSME yard in South Korea, will have a nominal capacity of 23,964 teu.
The largest box ships currently operating are the six 23,756 teu MSC Gulsun-class vessels delivered since last July and deployed on the 2M's Asia-North Europe services. HMM has said the HMM Algeciras will be deployed on THE Alliance's Far East-North Europe 4 service.
Aphaliner has dubbed this new breed of vessels the megamax 24, which includes other vessels under construction for HMM and Evergreen, CMA CGM and MSC.
Samsung Heavy Industries in South Korea is building a further five vessels for HMM that will have a capacity of 23,792 teu and will debut with the launch of the HMM Oslo in April. MSC has an order at DSME for 12 vessels of 23,656 teu, six of which have already been delivered.
Evergreen has four vessels under construction in China, which will have 23,888 teu capacity, and six at Samsung, which will have 23,764 teu capacity – deliveries will begin in April and December 2022, respectively.
CMA CGM placed an order for nine 23,112 LNG-powered containerships with two Chinese yards , but although they have the same dimensions as the other megamax designs, they will lose 400-500 teu to the huge fuel tanks LNG requires.
"Despite the differences in nominal capacities all megamax 24s have 24 bays in the length and load 24 rows of containers on deck. There are 12 tiers of containers in the holds, while the calculations are based on 13 tiers on deck. The difference of 172 teu of capacity between the DSME and Samsung newbuildings is entirely on the deck load," Alphaliner explained.
It said other lines were expected to join the megamax club – "competing carriers are expected to place orders for this vessel class in the not-too-distant future, with ONE and Hapag-Lloyd expected to be the next movers".
The analyst added: "Potentially, this could see orders for more LNG-powered ships and/or the first MGX-24 orders for Japanese yards. But the world's largest shipping line, Maersk, has so far restrained from committing to this vessel class, as has Cosco."