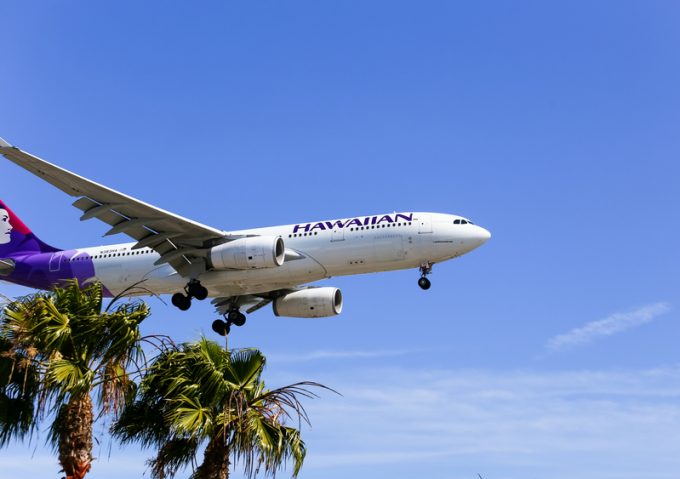 Japan Airlines (JAL) and Hawaiian Airlines (HA) are planning to work together in the cargo business.
They have applied for antitrust immunity to form a joint-venture, which they hope to start in the second quarter of next year.
It is a step closer for the two carriers after launching a codeshare agreement in March. Under the joint venture they will be able to share revenues and co-ordinate schedules.
While JAL gains access to intra-Hawaiian routes, HA can access 34 destinations in Japan and 11 points in Asia served by JAL.  HA's current routes to Japan cover both Tokyo airports, Osaka and Sapporo.
"Westbound has always been tough because of the trade imbalance, but I think we'll have some really good opportunities to expand our network going west," said Brad Matheny, MD of cargo at HA.
JAL already has a partnership with American Airlines across the Pacific. The venture with HA will; have no bearing on this, as it does not extend to the Honolulu-based airline's routes to the continental US.
The venture is driven by the pair's passenger business, but the cargo divisions intend to take advantage of the opportunities it opens up for them.
As talks at head office level on network co-ordination are in an early stage, Mr Matheny and his team are more focused on elements like handling agreements at this point. He also sees opportunities to share warehouse space with JAL at some Japanese airports.
Hawaiian moved into a larger cargo facility at its home base last year, but JAL has s sizable operation in Honolulu, with multiple daily flights from various points in Japan. At some point the airline flew as many as 14 B747s a day to Hawaii.
"We'd love to help them with our facility in Honolulu. Probably not all their traffic, maybe some of it," Mr Matheny said.
The intention is to take the partnership beyond handling arrangements, with operational alignment to create seamless opportunities for the airline's customers.
"We want to try to create some synergistic revenue opportunities," he added. "We hope to have some co-operation by the end of the year."
The most prominent issue on Mr Matheny's agenda is the imminent launch of HA's long-awaited freighter operation.
The carrier has invested in three ATR 72 freighters to fly within the state of Hawaii, which is due to take off this month with a nightly service from Honolulu to Hilo and Lihue. On the arrival of the third freighter, the service will be expanded to Kahului and Kona.
Mr Matheny said there were good opportunities for domestics flows, but he also had his eye on longhaul traffic. The ATR 72s, which can accommodate eight pallets with a maximum payload of 8.5 tons, are LD-3 compatible, so HA can transfer ULDs to and from its A330s on the longhaul routes.
The airline's transpacific flows through Honolulu are on the rise. As transpacific yields have climbed, the carrier now has more room to compete for traffic between Asian markets and the US mainland.
"Most of our international traffic is going through Hawaii," Mr Matheny said.
And more longhaul capacity is on the horizon. In March, HA signed a letter of intent to acquire ten B787-9s, with options on another ten aircraft. The first of these is slated for delivery in the first quarter of 2021.