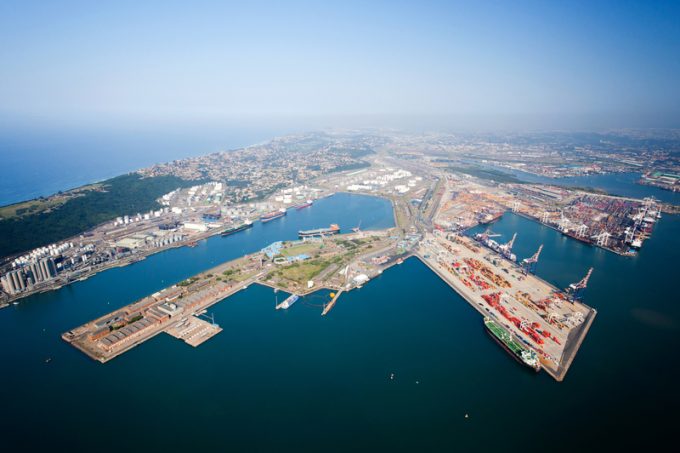 Maersk has agreed to form a joint-venture with South African transport and finance conglomerate Grindrod, to manage their South African container operations.
The proposed deal, with Maersk taking a 51% stake and Grindrod 49%, will see Grindrod Intermodal and its feeder shipping operation, Ocean Africa Container Lines, merge with Maersk's Southern African ocean services.
And Maersk's terminal operating arm, APM Terminals, has six inland container facilities in South Africa that will be folded into the joint-venture, as will Grindrod's multipurpose terminal in Durban.
However, the JV will not include Grindrod's cold store operations in the country.
Grindrod said: "Customers looking for end-to-end solutions in South Africa will continue to work with Maersk; however, after closing, most of the landside execution will be done by the proposed new joint-venture."
Maersk Southern Africa and islands area MD Jonathan Horn added: "We are looking forward to partnering with Grindrod so that we can offer our customers even better value and true end-to-end integrated logistics solutions in South Africa.
"We will have a far greater ability to seamlessly integrate solutions between ocean and the land side, while weaving into our organisation increased capability and experience through colleagues from Grindrod, which has long held a strong reputation in the land logistics space."
According to the eeSea liner database, Ocean Africa Container Lines operates four 1,100 teu vessels across two services – a regional loop connecting Mozambique to Namibia via South Arica's ports, in which Maersk is slot charterer controlling 20% of the capacity; and a common feeder service between Port Elizabeth, Coega and East London.
Grindrod, which is listed on the Johannesburg Stock Exchange, said "future investment in assets and infrastructure is anticipated".
Xolani Mbambo, CEO of Grindrod Freight Services, added: "Our combined service offering will provide flexibility and ultimately contribute to making a positive difference in South Africa's trade with the world."
The deal remains subject to regulatory approvals, including from competition regulators. If approved, it will represent another step in Maersk's container integrator strategy and is the kind of operational and geographic bolt-on deal that has become common for the group in the past couple of years.
A spokesman for Maersk explained to The Loadstar: "Maersk and Grindrod have agreed on the key terms of the deal which will then be reviewed by the relevant competition authorities, including the South African Competition Commission.
"The new organisation will be formed and go live within a few weeks of approval being granted by relevant regulators. Until then Maersk, APM Terminals Inland Services entities and Grindrod Intermodal remain separate companies and must continue to conduct their businesses independently."
In a filing to the Johannesburg Stock Exchange, Grindrod revealed that the APM Terminals' inland facilities were valued at R360m ($23.4m), while the combined value of Grindrod Intermodal and Ocean Africa Container Lines was R756m ($49.1m).