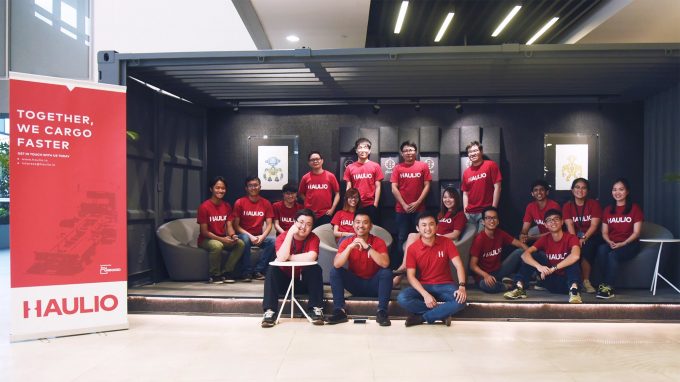 Singapore start-up Haulio is dragging drayage into the digital age, aiming to ease port congestion with its trailer/container matching platform for hauliers
Backed by terminal operator PSA, through its investment incubator PSA unboXed, Haulio is in operation in Singapore with around half the city-state's haulage companies already on the platform.
It functions in a similar fashion to digital freight matching services aimed at truckers and last-mile delivery companies further down the supply chain, but with an exclusive focus on container transport between the port and a customer's warehouse.
Co-founder and chief executive Alvin Ea said the service benefited traditional haulage companies by automating manual processes and helping them to pool jobs during peak periods – an increasingly frequent occurrence in today's era of mega-vessels and subsequent volume surges.
"The downside of mega-vessels is the economies of scale don't flow downstream," he told The Loadstar.
"With larger ships we get higher volume intensity in terms of peaks and troughs. To cope with peak periods you need more resources, meaning the amount of trucks and traffic congestion at the port increases."
This problem is less acute in Singapore as 85% of its 34 million teu throughput is transhipment cargo that never enters the city, Mr Ea said, noting that the hub was an ideal test-case for Haulio given its advanced port community system and penchant for digital-tech.
However, he said, one area of Singapore's port operations ripe for optimisation was the number of empty trailers passing through the terminal gates, as 80% of all trailer moves entering and leaving the port are box-less. Haulio is developing a solution to match laden export trailers entering the port with import cargo to reduce empty moves.
Haulage operators can use Haulio to outsource jobs to competitors during peak periods when they have insufficient assets, something they usually do manually via phone calls and emails.
"We allow them to broadcast using a single channel within their close community of contacts, making it a lot easier than contacting companies one by one," Mr Ea explained.
He said this inter-haulier outsourcing of overflow jobs represented half the 70,000 teu Haulio has processed since launching 18 months ago. The other half was from customers – mostly small freight forwarders – requesting haulage services.
Within Singapore, he explains, there are around 230 haulage firms and 30,000 trailers. However, it is a very fragmented market as a handful of big players dominate with several hundred trailers, and a "long tail" of smaller operators have perhaps three to five trailers.
"These companies have been around a long time and a good chunk of them are still using pen and paper and manual processes to dispatch jobs, communicate with drivers and run the business.
"We're bringing these processes online and building a brand new ecosystem for sharing and receiving jobs. It's a change in mind-set. In the past it was very relationship-based and companies held contracts for decades."
The challenge for Haulio, he said, was creating quality assurance and customer trust in the same way Uber did for ride-hailing or NinjaVan for last-mile deliveries.
Longer term, Mr Ea plans to roll-out Haulio to other ports in South-east Asia where the haulage inefficiencies are likely much greater. Plus, integrating with freight management systems and booking platforms could allow enhanced supply chain visibility and booking automation.
"We want to integrate with freight management systems so, at the click of a button, the haulage is automated. This way we can enhance the container booking process from a customer perspective and at the same time allow hauliers to do more with less," he added.