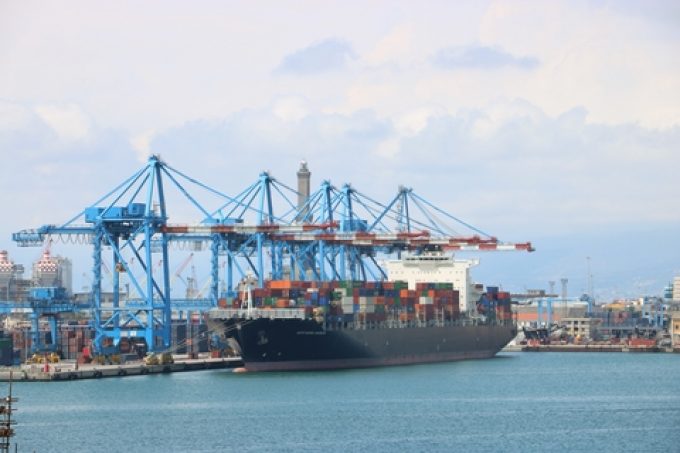 Hapag-Lloyd has moved to further strengthen its position in the Mediterranean port sector after announcing that it has agreed to acquire a 49% stake in Italy's Spinelli Group for an undisclosed amount.
Spinelli's businesses include operating two container terminals in Italy, in the northern gateway of Genoa, and Salerno, near Naples, along with associated container repair depots, and operating a fleet of 600 trucks involved in container haulage.
The deal represents the German carrier's latest investment in its nascent port portfolio, which in recent months has seen it take a significant stake in Germany's Wilhelmshaven, and team up with Eurogate and Contship Italia terminal operating group to jointly develop a new transhipment hub in the Egyptian port of Damietta.
Spinelli's 100%-owned Port Terminal Genoa currently hosts a total of seven services, according to the eeSea liner database, four of which are regional European strings; CMA CGM's transatlantic Medcaribe service; and two Hapag-Lloyd transatlantic services – Zim's ZCA service which Hapag-Lloyd markets as AL7 and buys 20% of the capacity through a slot purchase arrangement, and the MGX service, where it deploys six vessels with an average 4,860 teu capacity and 10% of slots are sold to Zim.
Salerno Container Terminal, in which Spinelli holds 30% (with Contship Italia the majority shareholder), hosts some 13 services, with Hapag-Lloyd the lead carrier in its Mediterranean-North America MCA service, deploying seven vessels between 2,300 teu and 4,100 teu, with CMA CGM buying 10% of the slots.
Throughput across the two ports amounted to 580,000 teu in 2020.
While the deal would secure Hapag considerable terminal capacity in both north and south Italy, there are also implications for its hinterland distribution operations as it also gives it access to Spinelli's 600-strong haulage fleet, as well as various intermodal operations in Milan and Padua.
According to local reports, Spinelli Group revenues were estimated at just over €110m in 2020, of which some 50% came from its transport operations.
Hapag said the deal, which will see the Spinelli family continue as a 51% owner, was now before competition regulators, which is "expected within the next months".