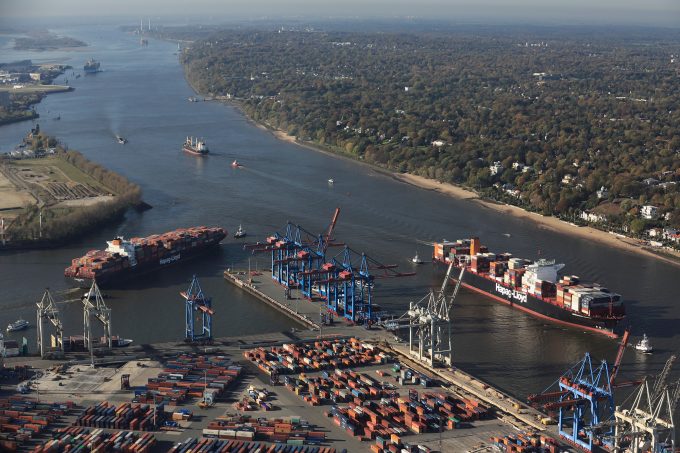 The port of Hamburg's terminals handled 8.3m teu last year, 5.1% fewer containers than in the previous year at 8.3m teu, after throughput plummeted 12% in final quarter.
Indeed, volumes at the three major North European container hubs of Rotterdam, Antwerp-Bruges and Hamburg continue to fall significantly year on year as consumer demand softens and retailers wrestle with stubbornly high inventory.
Posting its 2022 results yesterday, Port of Hamburg marketing CEO Axel Mattern said: "With Christmas in the final quarter, we should normally see a rise in throughput, but that failed to happen last year."
Over the year, container imports fell 6.1%, year on year, to 4.2m teu, while exports declined 4.1%, to 4.1m teu.
Mr Mattern attributed the import decline, particularly in Q4, to autumn's high level of inflation, "which caused consumer spending to fall to a low point". The resulting high inventory stocks caused importers to postpone or cancel orders from Asia, forcing carriers to blank sailings.
Moreover, industrial action by dockworkers in July and August resulted in several vessel diversions from Hamburg, so to keep the throughput decline on a par with its Benelux hub rivals – volumes at Antwerp-Bruges fell 5.2% to 13.5m teu – was an achievement, said Mr Mattern.
He told The Loadstar podcast in January the port was anticipating "a significant drop in cargo handling this year", and "the continued bearish outlook for the liner industry and uncertainty on where we currently are in the cycle is proving challenging for all stakeholders".
He said this week: "The continuing uncertain situation in world markets makes it hard to deliver a forecast for the year."
Much hinges on China, he added, which remains Hamburg's biggest trading partner by far, with a throughput last year of 2.46m teu, which was down 3.8% on 2021. The next biggest, the US recorded 605,000 teu, down 2.1%, with Singapore in third place with 423,000 teu last year, edging down just 1.1%.
Meanwhile, the deepening of the river Elbe, along with fairway improvements like the opening of a 385 metre 'passing box', reduced transiting time in the river, shortened turnaround times and improved the capacity limitations that once plagued the city port.
Overall, last year Hamburg saw 234 calls by vessels with capacity of more than 18,000 teu, which was 6% higher than the year before and Mr Maddern said: "The growing number of megamax containerships clearly indicates further acceptance of the fairway adjustments."
There were also 5% more calls buy vessels of 14,000 teu to 17,999 teu, but 17% fewer ships between 10,000 teu and 14,000 teu called.
This year will see carriers receive more than 30 newbuilds with capacity in excess of 23,000 teu, which can only be effectively deployed on the Asia-Europe tradelane.