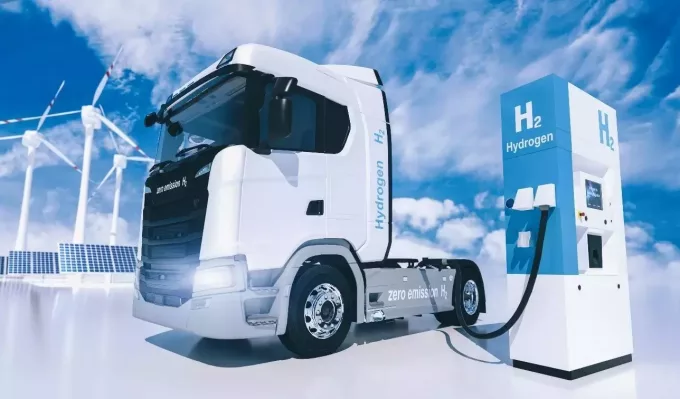 The regions of Hamburg and Lower Saxony have embarked on a €32m ($35m) project to replace diesel-fuelled cargo trucks with those powered by hydrogen.
The aim is to decarbonise the 40% of port of Hamburg cargo which moves into the hinterland by road.
The Clean Cargo Connect project will seethe  installation of five hydrogen refuelling stations and two mobile refuelling facilities, as well as an electrolyser facility close to Oldenburg.
The Hydrogen Network Northeast Lower Saxony (H2.N.O.N) and the Renewable Energies Hamburg Cluster Agency (EEHH) have applied for €15m in German federal funding from the HyPerformer II scheme.
Port of Hamburg spokesperson Mathias Schulz said. "The project fits seamlessly into the measures to achieve a climate-neutral port by 2040."
A spokesperson for Renewable Energy Hamburg said the source of the hydrogen was yet to be considered, but ruled out the using energy from Germany's nuclear power plants, adding: "It is not green, for us."
Despite electric trucks already on the market, opinion is divided on whether hydrogen is more practical. Critics of battery-electric trucks point out that even the extremely low-energy density of hydrogen is higher than lithium-ion batteries. in terms of weight and volume.
Hydrogen advocates also point to the enormous power requirements of a truck recharging facility. Germany's Daimler Trucksis targeting hydrogen for its trucks and spokesperson Florian Laudan told The Loadstar battery-electric would not be sufficient to support long-haul truck journeys.
"If you go to a fuel station, it is not unusual to see 80 trucks parked. If you imagine what would happen if these 80 trucks plugged into a charging network – you would need a power plant close to every fuel station," he said.
Meanwhile, in the US, a new lobby of American trucking groups and manufacturers, the clean freight coalition, wants to slow down the timeline for electrifying and decarbonising truck fleets. The Biden administration plans to make all new medium- and heavy-duty vehicles zero-emission by 2040.
The American Transportation Research Institute, a member of the coalition, said in December electrifying all US trucking would require 10% of the nation's power generation. CEO Chris Spear said: "We don't have the infrastructure to plug into, even if the power were available."