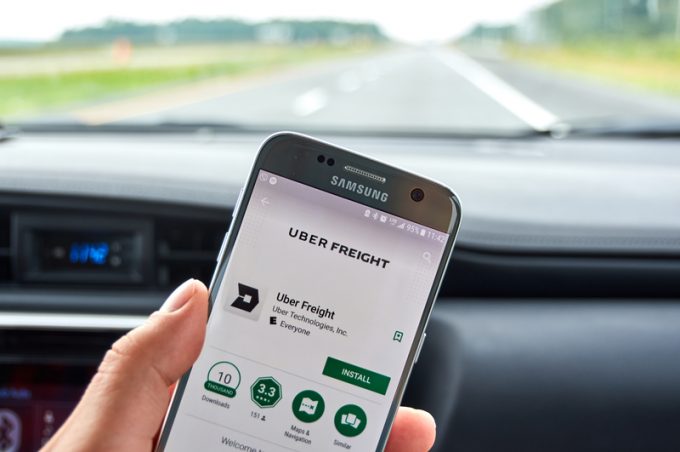 Greenbriar Equity Group, owner of Seko Logistics, has invested $500m of Series A funding into Uber Freight.
The investment values the US logistics arm of Uber at $3.3bn. Uber maintains majority ownership and will use the money to scale its logistics platform.
It will "accelerate product innovation to equip shippers with technology to power their supply chains", it says.
Two Greenbriar managing partners will join Uber Freight's board.
"We are tremendously proud of what we have accomplished in a few short years," said Lior Ron, head of Uber Freight.
"We have led the industry with technology, transforming dated and analogue processes to ensure both shippers and carriers are equipped to succeed in a rapidly changing industry."
Michael Weiss, Greenbriar managing partner, added: "Uber Freight has created an innovative and effective approach to logistics technology that we believe is highly scalable in the coming years. In particular, we believe that carriers and shippers will be increasingly attracted to the convenience and simplicity that Uber Freight offers in a complex marketplace.
"We are eager to share the extensive knowledge and expertise we have built through our decades-long involvement in the logistics sector."
Greenbriar has extensive investments in aerospace companies, as well as a GPS vehicle tracking company and LaserShip, a regional last-mile delivery company that serves the Eastern and Midwest US. It also owns Seko Logistics, although last year said it was selling its stake as part of a planned transition.
Uber Freight recently signed new API integration partnerships with some of the largest cloud TMS providers, including SAP, Blue Yonder, BluJay, MercuryGate and Oracle. It also launched Uber Freight Enterprise and Uber Freight Link.
Last month, digital freight forwarder Sennder bought Uber's European freight business.