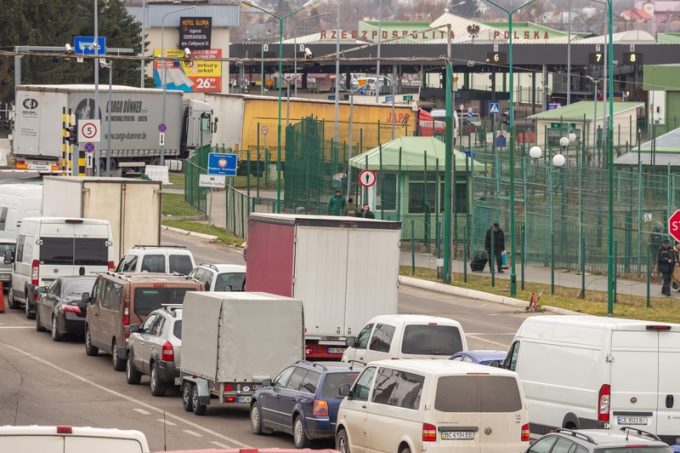 Freight representatives have urged European governments to back this week's EC guidelines to implement green lanes at border points to keep shipments moving across the continent.
Despite new EC's green lanes guidelines which stipulate that border crossings should take no longer than 15 minutes for road freight, the UK's Freight Transport Association has reported that "many logistics operators have encountered significant delays at the EU's internal borders".
"This is disrupting the delivery of goods and integrated supply chains," it added.
According to real-time shipment visibility platform Sixfold, which has built a dynamic border waiting time map of the continent, there is – at the time of writing – a 19km queue of trucks waiting to cross the border from Austria into Hungary, an 8km queue at the nearby Slovakia-Hungary border, a 9km queue from Hungary into Romania and a 6km queue at the main border crossing between Romania and Bulgaria.
"Green lanes at borders are intended to ensure freight flows freely to and from different countries," explained Pauline Bastidon, head of European and global policy at the FTA, "but many operators have faced, and are still facing, delays of up to 14 hours at the EU's internal borders.
"We are urging EU member states to ensure checks and screening can be carried out without the need for drivers to leave their vehicles, and they should not be asked to produce any documentation except ID, driver's licence and, if necessary, a letter from the employer, as specified in the EU guidelines. Electronic submission and display of documents should be accepted," she added.
However, an even greater problem appears to be growing at Europe's external borders, particularly at Greek and Bulgarian land crossings into Turkey.
"Turkey isn't somewhere our members can deliver to anymore," Ms Bsatidon told The Loadstar today.
A Turkish government decree issued yesterday bars entry into the country of any trucker from the Europe, as well as a range of African and Asian countries where there have been Covid-19 cases, and additionally ruled that any Turkish trucker returning to the country has to undergo a mandatory 14-day quarantine.
According to Turkish road freight organisation UND, drivers from a country not covered the be decree can enter Turkey after a 14-day quarantine at the border, although how this is supposed to work in practice, in terms of accommodation and facilities, remains unclear, although it does appear goods on trucks can be taken across the border and loaded onto Turkish trucks.
"For Turkish vehicles only, procedures are in place at the border to tranship goods onto vehicles inside Turkey, or to exchange drivers," UND added.
However, Ms Bastidon argued it was unnecessary to quarantine drivers and other workers not displaying Covid-19 symptoms.
"Quarantining workers at borders without reason is simply placing the whole supply chain under even greater threat," she said.
"European logistics as a whole is facing a significant shortage of workers, particularly drivers, and the industry which keeps the economy working efficiently simply cannot afford to sustain the gaps in the workforce these unnecessary delays are causing.
"At present, society is relying on logistics to deliver – more now than at any other time – but our operators are being hampered by unnecessary checks and red tape," she said, urging EU member states to temporarily suspend all road access restrictions.
"Covid-19 has created an exceptional set of circumstances, which logistics operators are negotiating their way through to keep businesses, schools, hospitals and homes supplied all over Europe with the goods and services they need.
"The industry now needs the support of all European governments to support their efforts by suspending restrictions such as weekend, night and sectoral bans, and to provide stimulus to facilitate the operation of such a vital sector of the economy," she said.