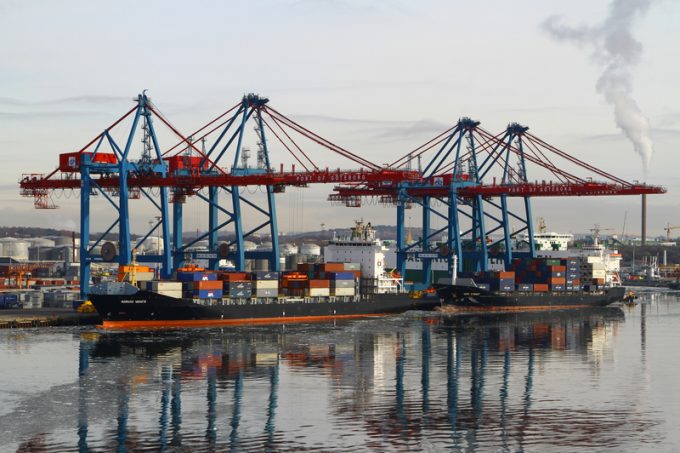 A labour dispute at Sweden's main container terminal has descended into farce, with government-appointed mediators washing their hands of a situation some predict could take over a year to resolve.
One forwarder described the damage the lockout at Gothenburg was doing to the country's container supply chain as worse than a meltdown.
Sammy Blom, national products director ocean freight & intermodal services at Geodis Wilson, which controls around 12% of Swedish ocean container movements, said: "Describing the general situation for anyone relying on container transports to and from Sweden as a meltdown is an understatement."
Responding to blockades by a dockers' union seeking collective bargaining rights, APM Terminals Gothenburg first imposed partial lockouts mid-May, and they are now set to last until the end of June.
Gothenburg is Sweden's largest container terminal by some distance, handling more than half of the country's box volumes. Last year, it processed 750,000 teu, the second largest port, Helsingborg, handled just 200,000 teu.
With lockouts in place, a port source told The Loadstar Gothenburg was operating at 30% capacity.
"There is a 70% overflow of volumes, around 525,000 teu, from the port – almost double the annual volumes of the second and third largest [Norrkopping 100,000 teu] ports combined," continued the source.
"Put quite simply, the country does not have the facilities to handle these volumes and it is causing serious congestion in the Swedish supply chain."
Sources said excess volumes were primarily being trucked to other European ports or sent by rail, but the even these services were struggling to meet demand.
"Shipping lines are using anything with a quay at the moment; I even know of one carrier that called at Lysekil, which has not seen a container vessel for 15 years."
Late last week, Maersk Line said: "This is affecting the inland operation and we are facing space pressure on rail. As for trucking, we are unable to guarantee on-time delivery of bookings to and from Gothenburg."
In March, Hapag Lloyd pulled one of its two feeder services to Gothenburg, redirecting it to Varburg. A spokesperson for the carrier said although it suspended its remaining feeder service to Gothenburg two weeks ago, this was now back in service and there were no plans to redirect it.
Chief executive of Port of Gothenburg Magnus Kårestedt said the dispute was causing enormous harm to Swedish companies.
"They have been forced to redirect their freight flows, leading to more expensive and more complex logistics arrangements," said Mr Kårestedt.
Members of the Swedish Dockworkers Union Section 4 want to be part of the collective bargaining agreement (CBA) APM Terminals holds with the Swedish Transport Workers Union.
However, unlike the STWU, Section 4 is neither a part of, nor recognised by, the Swedish Trade Union Confederation.
"We have highlighted the unreasonableness of a situation where Swedish ports that have signed CBAs covering the whole industry are still being exposed to unrelenting industrial action," Mr Kårestedt added.
However, a port source told The Loadstar labour and management had met more than 70 times since April last year, with little progress made.
"Mediators have been present at these meetings, but they have now said they've had enough and while they will continue to be present, will not intervene in the discussions.
"The problem is that the union, despite representing more than 85% of the facility's dockworkers, is not recognised as a union," he added.
APM Terminals said the union had declined to accept a written solution offered by the mediators.
"No written solution was forthcoming but the union did provide verbal explanation that the compromise was a 'mirror' of the industry's CBA with the Swedish Transport Workers' Union."
APM Terminals claimed it and the mediators agreed this was not a feasible, due to risks of subpoenas and continuing legal actions.
"CBAs can only be signed by the Swedish Port Association, so the only possible solution to the conflict is through an agreement based on previous proposals from the mediators," said APM Terminals.
"Either a side letter to the existing CBA or a local agreement in accordance with the mediators' proposal, since these proposals are in compliance with Swedish legislation and the Swedish Model."
Mr Blom said Geodis had met with government ministers to provide input on the effects the conflict has on Swedish trade and industry.
"The government has a long-term plan to change legislation which would impede similar strikes in the future," said Mr Blom. "Short-term, however, it is up the two parties to resolve the matter."
With the dispute likely to linger for several months at least, the port source said there was concern on the long-term impact for Sweden's ocean freight business.
"Sweden is already an outlier when it comes to European container ports, making it difficult to draw business away from the main European terminals," said the source. "These delays, blockages and the all-round uncertainty will only make it harder still to attract business in.
"No one in Sweden will be immune to the effects of this."
On 23 May, minister for employment and integration Ylva Johansson announced a government review of the legislation relating to industrial disputes. The minister said the Swedish Model was based on mutual trust between employers and unions, with all parties assuming responsibility for ensuring the model works as intended.
"The sustained industrial action at the port of Gothenburg is an example of a situation where the Swedish Model is not functioning adequately," the ministerial statement continued.