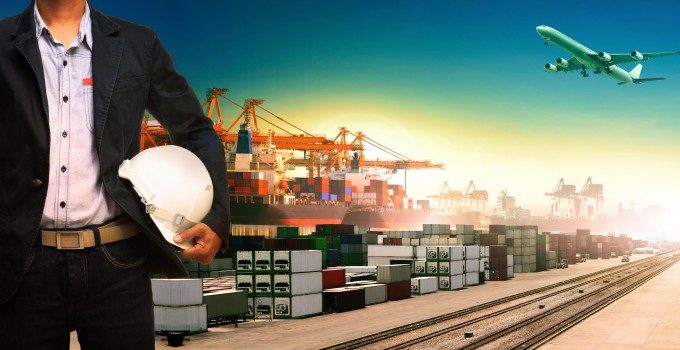 Despite being unable so far to lure a major Asia-Europe deepsea service to call on a regular basis, the logistics park at DP World's London Gateway container terminal is filling up with cargo manufactured in China.
The first official opening of a facility on the 200-acre park took place yesterday, the ribbon across the doors of the 180,000sq ft common user facility being cut by DP World chairman Sultan Ahmed Bin Sulayem, together with the UK Under Secretary of State for Transport, Robert Goodwill.
Run by UK logistics services provider Import Services in partnership with DP World, the facility, which also includes 25,000sq ft of office space, has also generated significant interest from retailers requiring cross-docking and bespoke services for containers arriving at other ports in the UK south-east.
According to Mike Thomas, client services director at Import Services, in less than two months the company has signed up three new major clients and is final negotiations with a fourth. Clients include John Lewis, Argos, Asda and Tesco. He added that the company had just signed a contract to supply a major London toy store, which would involve up to six deliveries per 24-hour period to replenish shelves.
"People don't actually want to carry a lot of stock anymore," said Mr Thomas, "they prefer to put the risk up the supply chain."
He expects the first phase of the warehouse and office accommodation to be full by October, after which DP World plans to increase the size of the centre to 386,000 sq ft.
"This is exactly why Felixstowe struggles [with port-centric logistics]," suggested Mr Thomas, "There is no John Lewis in Felixstowe."
The first tenant of the new centre was specialist forwarder Westbound Shipping Services, with co-founders Danny Horne and Ryan Clark bringing their 14-strong team into the building in May.
Mr Clark said that part of the reason for relocating from its Brentwood offices was the attraction of a direct call by an Asia-North Europe carrier. He hopes it is "only a matter of time" before London Gateway is added to an Asia-Europe deepsea schedule.
He said Westbound had already gained business since its move, both from existing clients and from new customers.
DP World London Gateway recently appointed Andy Browning, a 30-year veteran of specialist beverage logistics company JF Hillebrand, as cargo supply chain manager to develop new business for the port and logistics centres.
Sultan Ahmed Bin Sulayem explained to The Loadstar that the template for port-centric services had been developed over the 30 years of experience gained at the company's flagship Jebel Ali facility and its nearby free-trade zone.
Meanwhile, next door to the logistics centre, in a 50:50 joint-venture with international real estate developer Prologis, a 300,000sq ft logistics warehouse is in the final stages of completion and is expected to be open for business in September.
And elsewhere on the London Gateway site, UK inland container service operator Pentalver is nearing completion of a container services depot on a five-acre site offering empty and loaded storage, reefer services, maintenance and container refurbishment.