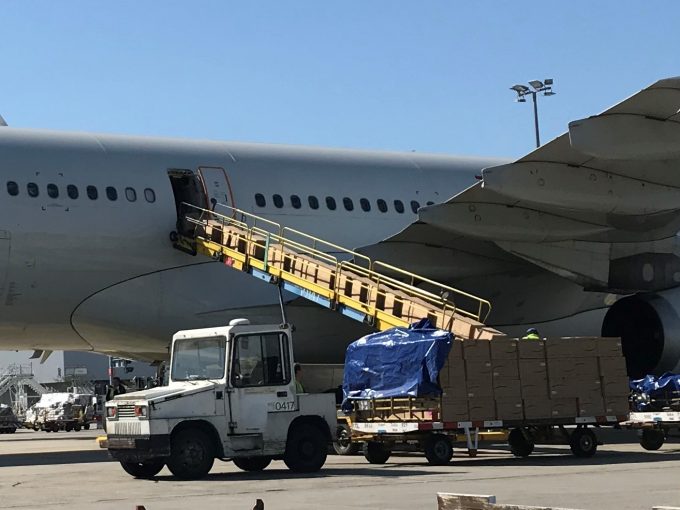 Frankfurt airport operator Fraport has unveiled further details of its planned job cuts, acknowledging that 90% of its staff have had their hours cut since the end of March.
On average, working hours have been cut by some 60%, although some areas have seen a 100% reduction in hours.
"There is still great uncertainty," said a spokesperson, but added that staff numbers would have to be reduced.
"Based on developments so far and the signals we are receiving from the airlines, we currently expect around 30-40% of the traffic this year, and around 50% next year – but are hoping for stronger growth.
"For 2022 to 2023, we expect traffic volumes to be around 15-20% below the previous peak, in 2019."
Fraport said it would "exhaust all other possibilities for cost reduction", but it would have to "reduce personnel expenses and adjust the number of employees to the lower annual traffic volume that is forecast".
Frankfurt has been noted as one of the better-performing airports by cargo operators in the past couple of months, while others, such as Liege, have been affected by congestion and delays.
"Some 3.5 billion respiratory protection masks and other protective equipment in 22,000 shipments, plus medical equipment and pharmaceuticals, as well as urgently required industrial goods, post, packages and food for the German and European markets, sums up air cargo in Frankfurt since the worldwide lockdown due to the Covid-19 pandemic in mid-March", said Harald Gloy, chairman of the air cargo community Frankfurt and board member of Lufthansa Cargo.
"Demand for cargo capacity remains high," added Michael Müller, board member of the air cargo community and executive director labour relations.
"With the slump in passenger traffic, the option for loading additional cargo on these aircraft has disappeared. That's why around 50 airlines in Frankfurt are now using passenger aircraft just for cargo transport," he said, although he acknowledged that loading and unloading was more difficult.
According to figures for the first week of June, passenger traffic at the airport was down 92%, year on year, while cargo was down just 12.8%. Freighters accounted for 90% of cargo volumes.
One cargo executive told The Loadstar: "I find the numbers interesting. Lufthansa is the biggest freight customer, with all its belly capacity, but currently not all aircraft are operating. So I think the cargo numbers aren't actually that bad."
In part, e-commerce has been a boost. The lockdown has triggered greater use of e-commerce, with a 30% increase in packages, which has shown how "indispensable" technology is, said Patrik Tschirch, managing director of cargo handling company LUG and a community board member.
He added: "Within the community, we have spent years working on digitised and automated processes – also in collaboration with the authorities and forwarding agents. But right now, it is becoming evident how indispensable digitisation is.
"Customs officials will be aware of this, as they know in advance which consignment is critical, as will HGV drivers, who will be given a pick-up time and will not have to wait for hours at the airport or rest area.
"As a community, we will work even harder to push this forward, together with the authorities, to make Frankfurt even more competitive as a location."
But while e-commerce traffic is up, exports from Germany have fallen by 20% since March, following a sharp drop in production and demand for machine and vehicle parts and pharmaceuticals.
"We are, therefore, a long way from normal flight operations", said Mr Gloy.