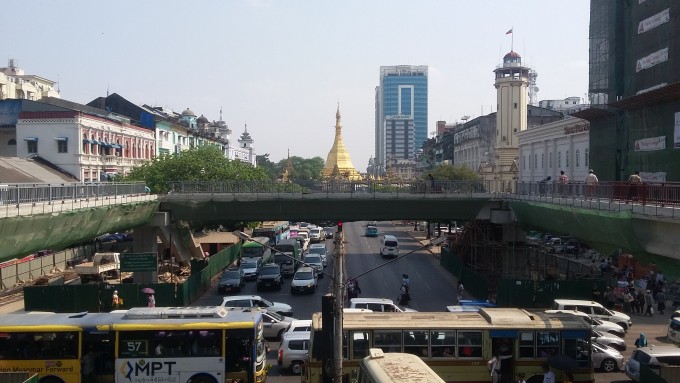 Despite the heavy pollution coughed out of the exhausts of crawling city-centre traffic, a fresh sense of optimism in the air in Yangon, Myanmar's former capital and commercial hub, is unmistakeable.
The country's first civilian government was sworn in last week, following November's elections when ex-political prisoner Aung San Suu Kyi's party won a landslide victory and the military conceded to power-sharing.
For Patrick Dick, Myanmar managing director of Switzerland-based freight forwarder The Freight Co, the political transition should mean new opportunities to assist Myanmar's fledgling industries – from energy and telecoms, to garment manufacturing and food logistics.
Mr Dick told The Loadstar that, despite the risks and pitfalls of doing business in Burma, and after having worked there for many years, he is now focusing his efforts on this frontier market.
"You have to take certain risks – there's always a risk if the generals change their minds [on power sharing]. But right now, the handover has been done and the military are saying they're honest this time. Of course, they could still stage a coup, but I'm optimistic."
Mr Dick specialises in project logistics. The Freight Co has been assisting telecoms giant Telenor increase its network coverage by transporting heavy transformers and gensets weighing 1.6 tonnes to Myanmar's remote hilltops – quite a feat considering the country's near non-existent road network and challenging terrain.
And neither has conflict completely departed – certain areas are still off limits to foreigners due to ongoing fighting between government and rebel forces.
The Freight Co also handles traditional ocean and air freight forwarding, which picked up significantly after sanctions were eased in 2011 and Myanmar was once again part of the international marketplace, with cars and mobile phones flooding the streets of Yangon.
"They're craving cars, smart-phones, stereos and things that the vast majority of people here have never laid their hands on," Mr Dick said.
But while the consumer appetite and purchasing power for containerised imports seems robust, there is comparatively little trade flowing in the other direction.
Myanmar is rich in natural resources and has the potential to become an oil and gas powerhouse, but its manufacturing base, while growing, is tiny and relatively primitive. The main exports are currently beans, rice and some garments.
Nonetheless, multinational forwarders are setting up shop and taking a long-term view on investment returns. The latest entrants include Nippon Express and Kerry Logistics.
Nippon is building a 5,000sq-metre warehouse in the Thilawa special economic zone south of Yangon, alongside an influx of other Japanese companies betting it will become Myanmar's main industrial zone. Kerry is looking to facilitate rail freight growth by investing in inland container depots.
In terms of air cargo, Yangon International Airport has no freighter services, and carriers bringing cargo in fly out empty, according to Mr Dick.
"Air freight volumes are moving up slowly, with garment manufacturers looking at the mode. But there's not enough capacity at the airport, as there's only a very small terminal. Handling equipment is non-existent – there's a forklift truck at the warehouse, and that's about it," he explained.
However, new passenger aircraft routes to Yangon have been added in the past six-months, including a Myanmar National Airlines service to Hong Kong, a Vietjet Air service from Ho Chi Minh City and an Emirates service from Dubai due to begin in August.
Meanwhile, some road infrastructure improvements have helped facilitate cross-border truck flows between Myanmar and Thailand. So much so, according to Mr Dick, that costs are now on par with ocean freight but with a quarter of the transit time.
"Roads between Yangon and Bangkok were virtually impassable for big trucks and trailers, and it was very dangerous. But the new road bypasses that section. And they're expanding logistics facilities on both sides at the border.
"So comparing shipping a container from Yangon to Bangkok by sea and by road, the costs are the same, but the transit time door-to-door would be 20 days for ocean and only five days by truck," he added.