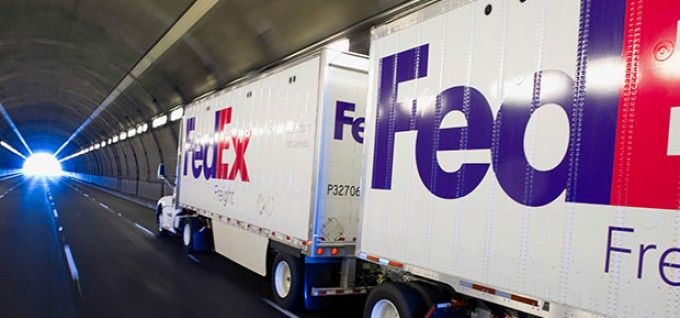 Extra costs associated with the acquisition of the "severely under-invested" TNT hit FedEx's third-quarter results, it announced today.
Adjusted operating and net income both recorded significant declines.
Chief financial officer Alan Graf said nine months after completing the TNT deal, FedEx learned it had acquired a "severely under-invested" business, particularly in regards to IT infrastructure.
Despite an 18% year-on-year rise in revenue to $15bn, adjusted operating income dropped almost 3.5%, from $1.16bn to $1.12bn, with a 170 basis-point drop in operating margins.
Non-adjusted, the operating margin stayed flat, compared with the previous year.
Meanwhile, adjusted net income fell from $692m last year to $638m, a drop of 7% year-on-year, while non-adjusted figures revealed a 10% increase from $507m to $562.
"Operating results were impacted by the significantly negative net impact of fuel and one fewer operating days at FedEx Express and FedEx Ground, as well as the network expansion of the latter," said the company in a statement.
"These factors were partially offset by benefits from yield growth at all the company's transport segments."
During an earnings call, Mr Graf said while e-commerce continued to be the fastest-growing segment, it made up a tiny proportion of the company's business compared with B2B, and it appears to have undertaken a strategy of rationalising its customer base.
"We cannot afford the same capital intensity for peak e-commerce volumes, which is why we have been backing away from some customers and raising our prices significantly," he continued.
"This balancing act will continue for us, going forward."
The company said it expected more "significant" expenses over the next few years relating to the integration of TNT, and has forecast $300m for 2017 alone.
Revenue at FedEx Express grew 4.3% from $6.5bn to $6.78 – still not enough to offset a $40m (7%) dip in non-adjusted operating income from $595m to $555m.
The picture was starker at TNT Express. Revenue flatlined at $1.79bn but non-adjusted operating income plummeted 95% from $40m to $2m.
FedEx's Express segment associated $31m of this operating income decline to the integration process, with TNT Express aligning $22m of its $38m fall to the process.
It said TNT Express had faced a further $16m cost in intangible asset amortisation.
The picture was much the same at FedEx Ground, where higher rents and the costs of depreciation, increasing staff – the result of network expansion – and one fewer working day were blamed for dips.
Revenue may have grown 6% year-on-year, from $4.41bn in fiscal 2016 to $4.69, but operating income fell 8%, down from $557m to $515m.
And at FedEx Freight, operating income dropped 27%, from $56m to $41m, despite a 3% upturn in revenue to $1.49bn, again associated with increased staffing costs as well as IT expenses.
It also noted that it was unable to forecast full-year 2017 market-to-market pension accounting adjustments and therefore could not give earnings guidance on a GAAP basis.
This followed similar announcements from both UPS and Deutsche Post DHL.