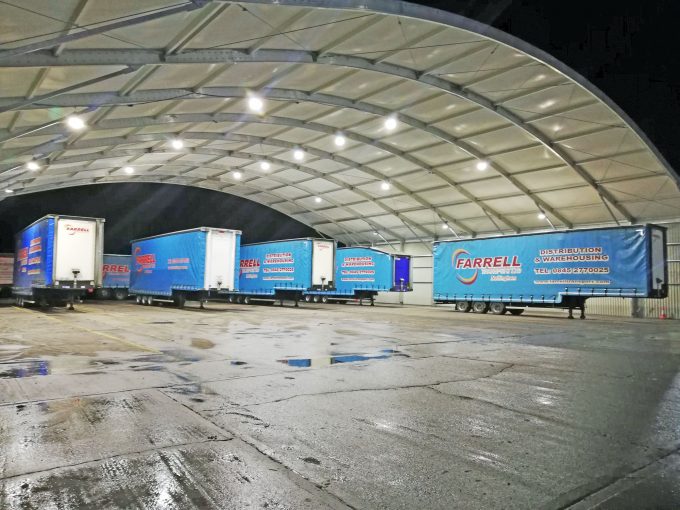 Unique £500,000 canopy doubles efficiency and helps social distancing for Pallet-Track member
A Nottinghamshire-based haulage company has got it covered when it comes to doubling its efficiency and increasing protection of drivers and freight, through a £500,000 investment in an innovative all-weather canopy that has increased loading capacity and helped maintain social distancing.
Based in Staunton-in-the-Vale, Farrell Transport, which covers the Nottinghamshire postcode area for the award-winning Pallet-Track network, unveiled the unique curved 32m sq. canopy ahead of the coronavirus lockdown, as a measure to increase efficiency and capacity in all weathers.
The uniquely-curved canopy, the only one of its kind in the UK, has no internal supports to optimise space and has increased safety for FLT drivers in Farrell's fast-moving environment, as well as transforming the operation.
Operational in just three weeks, the canopy from Uttoxeter-based SpacioTempo, an expert temporary building company which is also providing structures to help other UK sectors cope with the coronavirus crisis, has doubled Farrell's throughput.
"Even against the backdrop of these uncertain times, being able to complete trans-shipments protected from the elements is key to the proper handling of our pallet network and direct customer freight," said Robert Farrell, director and founder of Farrell Transport.
"We originally had undercover loading for four double-deckers, but the new canopy has the space to have eight under cover bays and, because of the way it's been thought out, we can have the trailers back to back. This means the loading vehicles are parked very close together, meaning it's a short distance for each pallet to be handled and makes for a much quicker operation.
"It has represented an amazing transformation for us as we are now seeing the last vehicles loaded and ready to leave at 8am, even in busy times. It's taken a lot of stress away from the drivers trying to make delivery slots, whereas before it was race against time.
"It also, importantly has a major health benefit in these troubled times as we are now loading without drivers being present, which aids the social distancing that we require.
"The vehicles are parked in a bay at night, unloaded with the collections and then, in the morning, we're able to load the vehicle for the driver before they start their shift – it's a win-win.
"This new canopy has almost doubled our capacity to complete this work, allowing us to offer the highest standard of care to all our drivers and freight, today and for many years to come.
"The canopy was completed a little later than scheduled after delays due to the winter flooding and has now been operational for two months. In that time it's proved to be a real bonus for our staff, our customers, Pallet-Track and all our member depots."
Farrells, which employs more than 50 staff, has more than 100,000 sq. ft of warehousing at two sites in Nottinghamshire spread over 20 acres, making it ideally placed in the heart of the Midlands to offer a unique package for business looking for a centrally-based warehousing partner.
This has allowed the business to insulate itself against the worst ravages of Covid-19, according to Robert Farrell, who added:  "While business is generally down, our warehouse has really kicked in with customers taking advantage of our ability to store stock, and despatch directly from us while they are effectively closed."
For more information on Farrell Transport, visit www.farrelltransport.co.uk. For more information about Pallet-Track and its members, visit www.pallet-track.co.uk.