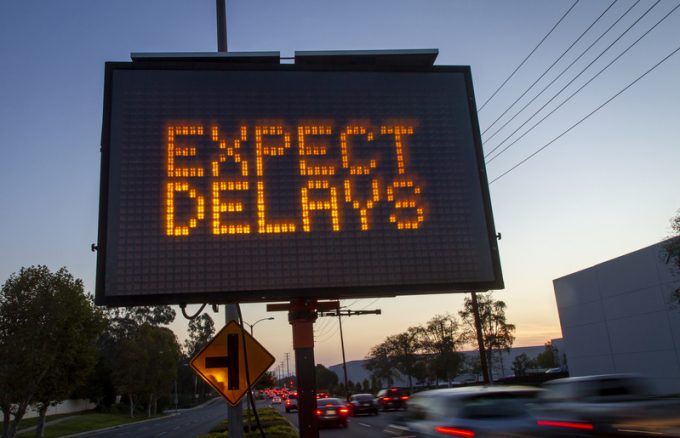 Apparently the folks at eBay who deal with logistics inhabit a parallel universe.
The e-commerce platform has suspended its shipper protection programme for late deliveries due to carrier delays, using the bizarre reasoning that delays are 'no longer a serious concern'.
"We are seeing consistent improvements in on-time shipments for USPS [US Postal Service] and all carriers, and late deliveries have returned to pre-Covid-19 levels," the company declared.
Its take on deliveries is vastly at odds with comments from parcel carriers bracing themselves for "a peak on top of a peak", as one carrier executive put it.
"We've seen a slight improvement in parcel deliveries, but performance is nowhere near pre-Covid levels," reported Deyman Doolittle, COO of transport consultancy ShipSights.
He added that the large parcel carriers anticipated delays during the peak season – and even consumers are not expecting their online purchases to arrive in the standard delivery windows.
The recently published 2020 Annual Consumer Survey, by Convey, a provider of delivery experience management software, found that 42% of 1,600 consumers surveyed were concerned that their packages would arrive late, while 74% expressed willingness to allow retailers between one and four extra days to deliver their orders.
And shippers are worried: since the lockdown measures in March, many have experienced issues with securing sufficient capacity for their deliveries, while the associated costs have soared. Many find their traditional arrangements are not strong and resilient enough to cope with anticipated peak volumes.
"People who have been single-sourcing are moving to a dual-source strategy," Mr Doolittle added, and suggested that those that had not finished their preparations had no time to lose.
"They need to work early with carriers – which is right now – to talk about volumes and projections," he urged.
Some shippers are looking at drastic changes, such as switching from network carriers to regional carriers for deliveries, Mr Doolittle reported. Such shifts may be rather challenging to execute in a short timeframe, especially in the present market conditions, so the majority will remain stuck with the large network carriers for the coming peak, he reckons.
This means markedly higher costs, particularly for large shipments, to which the integrators have added massive surcharges in their most recent pricing moves. However, there was room for negotiation on those surcharges, Mr Doolittle said.
Another strategy some shippers are embracing is to prioritise shipments of higher value.
One of ShipSights' clients from the food sector has two distinct brands, one a high-end label with better margins. The firm strives to make sure its shipments of the luxury brand always go out first, according to Mr Doolittle.
Probably the biggest relief for shippers and carriers will come from the extended duration of the peak season. According to one observer, Amazon effectively stretched the season by 30-45 days with its decision to move its Prime Day 'discount frenzy' to 13 October this year. Many retailers have indicated that they will start shopping promotions earlier to extend the peak season and take some pressure off deliveries.
And according to Mr Doolittle, the strategy has merit.
"I think it will help," he said. "It's also going to help the carriers because they can spread out their peak season surcharges."
Nevertheless there will be delays. Shippers with better insight on where their shipments are held up will have some advantage, Mr Doolittle added. Not being able to track shipments is going to add some resentment from frustrated consumers, he said.
"With tracking capability, at least they can mitigate the customer service aspect."
A programme that protected shippers against carrier delays would also come in handy, he added.