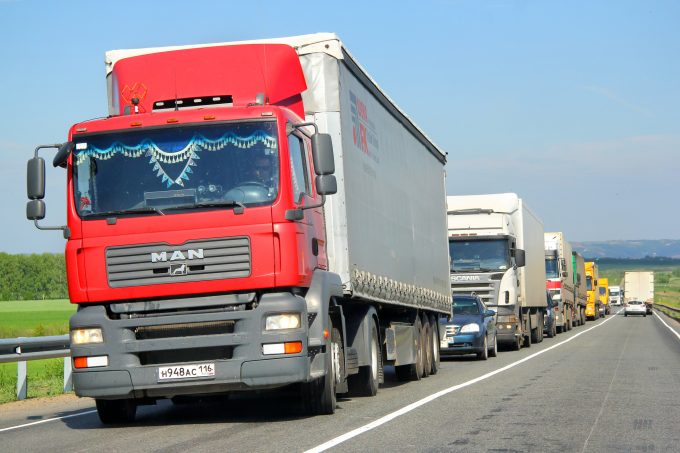 European road freight rates have hit an all-time high, amid a Europe-wide driver shortage and rising fuel prices.
The latest quarterly European Road Freight Rate Benchmark – calculated by transport Intelligence (Ti), Upply and the IRU – hit 107.6 for the third quarter, its fifth consecutive quarter of growth and the highest level since it was established, in 2017.
"[The benchmark] is 2.9% higher than the same point a year ago," said Nick Bailey, head of research at Ti.
"We see supply chain issues, bottlenecks and demand has increased as shops have reopened. Costs are rising for road freight providers and inflation is on the horizon. In Germany, diesel prices ended 38.5% higher per litre in Q3 than in the same period last year."
Ti and IRU data also shows diesel up 26.6% in the UK, 25.2% in Spain, 23.5% in France and 20.6% in Italy. However, this was not deemed to be the most concerning factor.
"Perhaps the most acute effect is driver shortages, as we head into peak season, Britain is about 100,000 drivers short and in Germany it is 65,000," said Mr Bailey. Spain, too, is suffering, according to IRU data, while France is short 40,000-50,000.
"The economic recovery is emphasising the shortage of drivers," said Marie-Anne Cervoni, senior manager – strategy and market intelligence, at the IRU.
"The main reason for this is the lack of attractiveness of the profession. The hard-working conditions and low female employment – for reference, in Europe today, only 2% of drivers are female.
"Another key issue is the aging driver population – 44 years is the average age of truck drivers. And there is a higher level of quality and stratification required to become a driver, leading to difficulty accessing the profession – many countries are trying to find ways to ease access to the profession."
Ms Cervoni added: "We need to integrate the regulation with better treatment of drivers.  The IRU is directly founding safe and secure parking areas, which is a EC project aiming to provide adequate places to stay, sleep and have better conditions to rest.
"We have also launched a charter to improve the treatment of drivers at the delivery sites, and we are working with the EC to see how we can integrate better conditions for drivers at loading and unloading sites."
Lille-London was highlighted as a "lane to watch", where rates had significantly declined UK-bound, due to falling cross-Channel traffic", but on the London-Lille leg rates had increased 9.6% year on year in Q3, said Ms Cervoni, adding: "Data reveals that the majority of this rise occurred during the months immediately after Brexit."
She said: "Looking ahead, volumes on this lane are expected to increase towards the end of 2021… as importers could stock up prior to potential disruption… [ahead of] the implementation of the border controls from EU to UK-bound freight in January 2022. After this date there is an expectation of a disruption in UK imports, leading to higher rates," she explained.
Mr Bailey said: "In Q3 we started to see cracks appear in supply chains across Europe as a mix of supply- and demand-side challenges impacted the movement of goods in the region. The challenges have been more pronounced in certain locations, certainly in the UK, but the effects are creating upwards pressure on rates.
"Heading into peak season, and with the addition of rising costs, particularly diesel, all the ingredients for a period of sustained rate inflation are in place," he said.