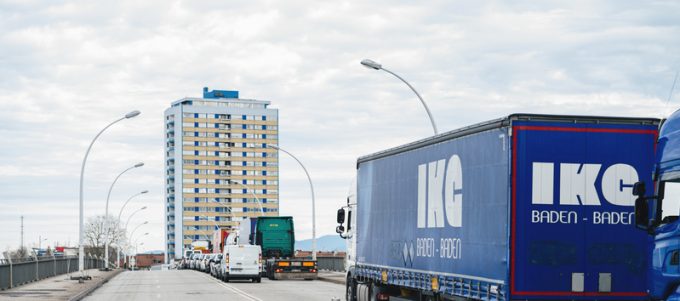 In an effort to avert lengthy truck queues, the EC yesterday unveiled a new guide for member states to implement 'green lanes' for freight at EU borders.
As member states last week scrambled to check the spread of coronavirus by limiting border crossings, huge queues of road freight traffic – particularly at eastern borders – began to build up.
According to real-time shipment visibility platform Sixfold, which has built a dynamic border waiting time map of the continent, at one point last week there was a 50km queue at the main crossing between Germany and Poland, while lines of vehicles longer than 10km were seen at the borders of Hungary, Czech Republic and Slovenia.
In response, the EC yesterday issued a set of 'green lane' guidelines, aimed at limiting border processing time to 15 minutes for freight movements.
Commissioner for transport Adina Vălean said: "Our guidance document is intended to protect the EU's supply chains in these difficult circumstances, and to make sure both goods and transport workers are able to travel to wherever they are needed – without delay.
"A collective and coordinated approach to cross-border transport is more important today than ever before."
The EC green lanes document calls on member states to reduce checks on truck drivers, specifying that they "should not be asked to produce any document other than identification and driving licence and, if necessary, a standard template letter from the employer", and stressed that this was not just applicable to EU drivers and vehicles.
"All freight vehicles and drivers should be treated in a non-discriminatory manner, irrespective of the origin, destination, or country of registration of the vehicle, or of the nationality of the driver," it said. "Member states should not distinguish between vehicles carrying goods for use in their territory and those merely transiting."
At the time of writing today, the worst border delays, according to Sixfold, are at the Poland-Slovakia border, where a 7km queue has formed, between the Netherlands and Belgium (6km) and from Germany to Switzerland (4km).
And to also help drivers, the International Road Transport Union (IRU) has developed a webpage listing the latest road restrictions around the world.
IRU general delegate Raluca Marian said: "We welcome the commission's guidelines and the announcement that all freight qualifies to access those green lanes, since all goods being transported by road are essential.
"We regret, however, that a provision on long border waiting times has been included. We know by experience that a maximum 15 mins per truck will continue to result in huge delays and the situation will remain unchanged. There shouldn't be any systematic checks at borders," she added.
Meanwhile, the IRU has called for the EC and national governments to begin organising financial aid measures for the sector.
"Many road freight operations are conducted at low margins by companies without cash reserves. Stopping, or massively reducing, road freight activities is therefore bringing transport operators to the brink of collapse," it said.
"Without swift financial support, very few road transporters will remain operational once the restrictive measures have been lifted. And once the restrictions are lifted, economies in Europe and beyond will need road transport operators to resume scaled operations immediately to support economic recovery.
IRU secretary general Umberto de Pretto added: "With every day that passes, the need for swift, decisive action becomes more pressing.
"European challenges require concerted European measures and coordination worldwide. We call on the EC and all EU member states to continue supporting the road transport sector and to coordinate their actions with the UN and other global stakeholders in these unprecedented and challenging times."