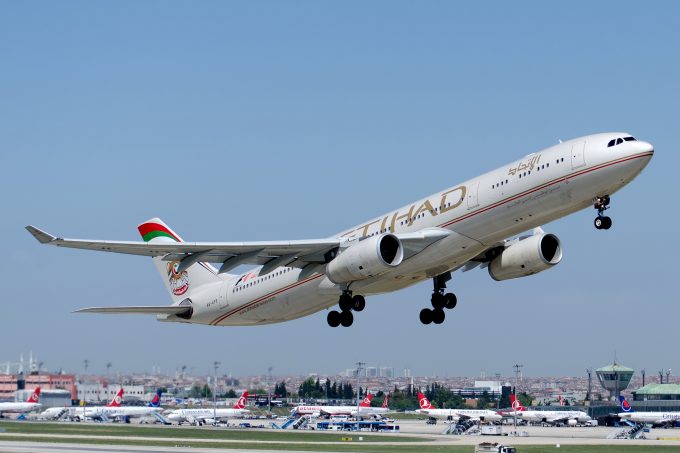 Etihad Cargo has announced record-breaking revenue for the first half – despite tonnage falling 19% as passengers returned to the skies.
First-half revenues rose to $802m, up 6% on last year, accounting for more than one-third of total group income.
But the carrier noted: "Revenues remained strong despite the increase in passenger volumes limiting bellyhold capacity, leading to a 19% reduction in freight carried (295,020 tonnes)."
The results contrast with those of IAG Cargo, which released figures on Friday showing that it had seen H1 volumes rise.
IAG Cargo's first-half revenue grew 9.6%, to €843m ($864m), while sold cargo tonnes went up 11.3%, to 276,000. Revenue per cargo tonne km (CTK) grew 4.8%, to €0.43.
However, in the second quarter, IAG Cargo, which only accounted for about 9% of group revenue, saw a 1.9% fall in turnover, to €411m, while CTK dropped 5%, yields fell 2%, but volumes, however, rose 4.6%.
IAG said its €74m rise in H1 revenue was "despite only 395 cargo flights operated in the period, down from 2,677 from the first six months of 2021, due to the significant increase in the passenger capacity operated".
It added: "Yields increased 4.8% on 2021, supported by continued global supply chain disruption. Cargo carried, measured in CTK, rose by 4.6%. And compared with 2019, cargo revenue increased by €287m, or 51.6%."
Etihad said it saw growth in premium products, such as PharmaLife, where revenues were up 46% on volumes up 25%, while LiveAnimals rose 52%. It also noted that e-airway bill penetration was 81%, while website bookings saw a rise of 57%. It has launched a Mandarin version to cater for China, which accounts for about 20% of its operations.
IAG Cargo, meanwhile, in its earnings release focused instead on new routes, including to Portland from Heathrow, as well as Dallas and Washington from Madrid.
MD David Shepherd said: "While there are undoubtedly challenges facing the entire aviation industry, our results today show that our investments in route expansion and digitalisation are paying off. The return of global passenger travel is facilitating additional cargo capacity, our pre-pandemic schedules are returning and we are launching new routes for customers."