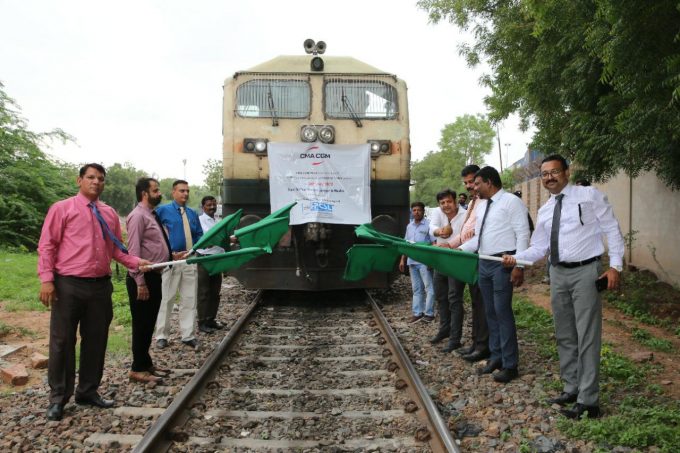 Indian shippers looking for some respite from soaring freight rates now face additional landside costs.
Indian Railways (IR), the public enterprise that governs and operates the country's rail systems, has again scaled down the haulage subsidies allowed for the movement of empty containers.
The rebate scale, reduced from 25% to 15% in April, has this week been revised further, to 10%, through the end of October.
Haulage charges are the fees levied by IR on containerised rail operators for the use of its infrastructure network.
The subsidy scheme was introduced early last year, as part of government efforts to induce container carriers to reposition more empties on the hinterland side, necessary to meet a sharp spike in export volumes.
Container lines serving Indian trades welcomed the incentive, saying it would aid their efforts to create a more balanced supply-demand equation.
According to the Container Shipping Lines' Association (CSLA), liners repositioned some 1.85m teu of empty containers into India last year. Separately, Maersk Line had also claimed significant traction in empty repositioning into the country.
But now, in addition to the cost additions from the subsidy reduction, Indian shippers face an all-round increase in the terminal handling charges (THCs) levied by carriers for railed cargo. MSC and CMA CGM have already issued new ancillary rates for various ports in India.
At Nhava Sheva (JNPT), MSC now levies Rs8,200 ($102) per 20ft container, up from Rs7,800, and Rs13,100 per 40ft box, up from Rs12,200, for standard ICD (inland container depot) dry cargo.  For non-hazardous reefer ICD exports, its revised rates are Rs18,900 and Rs24,900, respectively, versus Rs17,100 and Rs23,550 previously.
At Mundra, MSC's THC rates are even higher, rising to Rs9,485, from Rs8,830, for a 20ft standard ICD dry box, and to Rs12,510, from Rs 11,500, for a 40ft box. THC pricing for reefer cargo is now Rs18,430 and Rs25,900, respectively, up from Rs18,230 and Rs23,700.
The Geneva-based liner implemented the THC revision on 8 July, and from 15 August, CMA CGM will also raise THC rates across Indian ports.
Trainloads or ICD contributions out of northern India make up a significant portion of volumes moving via Nhava Sheva and Mundra, particularly at the latter.
In another rail expansion move, CMA CGM today announced it had opened a blocktrain service from ICD Thar (Jodhpur) to Mundra, claiming the addition had taken its weekly capacity to 1,620 teu out of 15 block train trips (imports/exports combined) a week.
Atit Mahajan, MD of CMA CGM India, said: "Our new dedicated service will reduce the ICD export pendency to the minimum and will connect ICD Thar and Mundra directly in 24-30 hours, with priority handling at the port."
While stakeholder efforts like this would undeniably enhance the modal shift from road to rail – critical to improving port flows – growing inland costs have become a "double-whammy" for cargo owners.
You can contact the writer at [email protected]