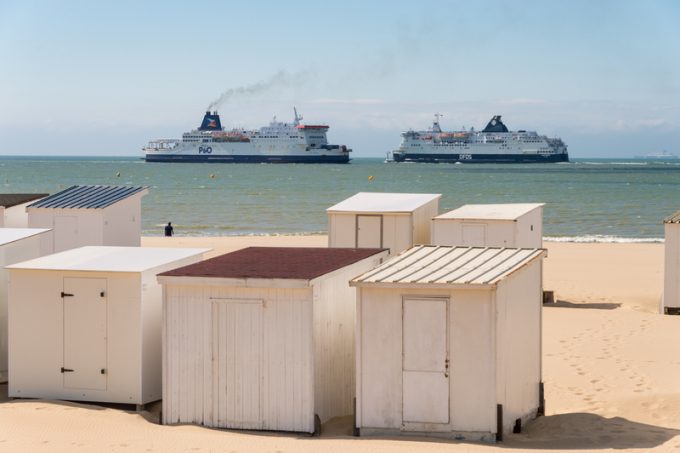 Cross-channel ferry operators DFDS and P&O Ferries have entered into a mutual space charter agreement on the Dover-Calais route to shorten freight customers' waiting times and improve the flow of traffic across this vital arterial trade link between the UK and the EU.
Under the terms of the agreement, freight drivers will be able to board the next available sailing when they arrive at the Port of Dover or the Port of Calais, "regardless of which of the two ferry companies is operating the crossing", and which the companies said would "reduce the amount of waiting time at the port, saving our freight customers up to 30 minutes on their overall journey time".
P&O Ferries currently operates five vessels on the Dover-Calais route, and DFDS three: in combination they offer a departure every 36 minutes.
The agreement is limited to freight traffic between Dover and Calais and has not been extended to the Dover-Dunkirk route operated solely by DFDS.
"Whilst the agreement means that capacity is shared, all commercial activities remain entirely under the control of each operator," a DFDS statement stressed.
David Stretch, chief executive of P&O Ferries, said: "After the pandemic, during which we did everything we could to keep essential goods moving at a time of national crisis, the best way to ensure that we can continue to run vital freight services on Dover-Calais is to build on our relationship with DFDS and enter this space charter agreement.
"It will ensure the continued resilience of the principal UK-EU trade route on which thousands of businesses and millions of consumers rely.
"It will also maintain service levels for our customers by reducing the time drivers spend waiting at the ports, giving them access to a departure every 36 minutes and reducing gate-to-gate journey times by an estimated 30 minutes," he explained.
Together, the two lines carry more than 2.5m lorries across the English Channel every year, making it by far the busiest trade route between the UK and Europe.
DFDS has similar space charter agreements on some of its services on the North Sea, the Baltic Sea and in the Mediterranean.
In June, the two carriers are expected to be joined by a third operator, with Irish Ferries scheduled to launch a new Dover-Calais service with the redeployment of its Isle of Inishmore vessel.
Port of Dover chief executive Doug Bannister said: "Developing the ferry product by maximising choice, capacity, flexibility and resilience in this way is a fantastic demonstration by the ferry operators of how the Dover route is responding to renewed market confidence.
"We look forward to seeing the benefits of this announcement being realised as the port and ferry operators continue to support the UK in getting back to normal and driving future economic success across the nation from Dover," he added.