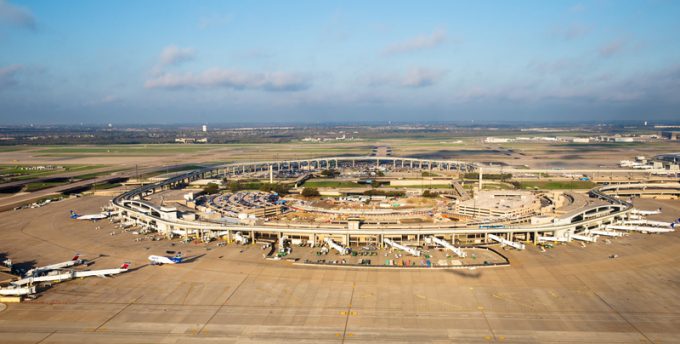 The Covid-19 pandemic has dealt a body blow to the important bellyhold capacity at Dallas/Fort Worth International Airport (DFW), home base of American Airlines.
But this has not stopped the airport authority's drive to expand the cargo business: it is planning an express facility for e-commerce and a new cargo area.
So far, US-bound flows of international e-commerce have passed largely through major coastal gateways, but, increasingly, providers are interested in gateways further inland to reduce distances for distribution, said John Ackerman, executive VP, global strategy & development at DFW.
DFW has been in talks with the US Customs & Border Protection agency (CBP) about an expedited customs clearance process, and to establish DFW as designated entry point for international e-commerce.
Al Kalmbach, assistant VP cargo, said a pilot programme for this would be run in one of the airport's cargo facilities. However, he added, this may be a drawn-out process.
"We are working through the details. How long the pilot programme will last is undetermined right now, but we feel it could function for a couple of years, as we adjust to volume increases. That will help us plan a robust, state-of-the-art facility," he explained.
"Our target time-frame will be driven by progress in the pilot programme and approvals by CBP."
The airport management's vision calls for a dedicated facility to handle this traffic, said Mr Kalmbach. "We plan to build a state-of-the-art express centre to handle hundreds of thousands of parcels,"
And the planned facility is not only meant for e-commerce imports. Thanks to the rapid growth of the Dallas/Fort Worth metropolitan area, domestic e-commerce flows have been strong. Amazon has five distribution facilities with a combined footprint of about 5m sq ft at the airport.
Moreover, the airport authority is looking to establish itself as a gateway for intercontinental e-commerce flows to Latin America, particularly from Asia. This follows its strategy on the cargo side as a connection point for transpacific and US-Latin America operations.
Milton de la Paz, DFW VP airline relations, global strategy & development, said: "Ultimately, DFW Airport will be a vital gateway for international e-commerce. Our geographic location is ideal, particularly for traffic that originates in Asian markets.
"We are not yet talking to authorities throughout the region. We are focused on the technical and material handling systems requirements, as well as emerging technologies and innovations that may drive the fastest and most cost-efficient clearing process to date.
"As international e-commerce volumes grow, we expect a commensurate increase in data requirements and in the scrutiny of the clearing process."
The grounding of most of American's network and the loss of a Bogota-DFW freighter link by Avianca this year has not invalidated this concept, Mr Ackerman said. The gap left by Avianca has been filled, to some extent, by Qatar Airways, which runs a freighter twice a week from Latin America to DFW, continuing to Europe. This has ferried a lot of Chilean salmon to DFW for connections to Asia, according to the airport authority.
Overall throughput at DFW is down year on year, but freighter operations and integrator traffic are up, and to make sure it has enough capacity and ramp space, there are plans to tear down some buildings in the north-western sector of the airport that are 40-50 years old and replace them with a new cargo complex.
The first phase, which is earmarked for the e-commerce express facility, will comprise a 148,000 sq ft building and ramp space, with three parking positions for freighters. The second phase will expand the building to 240,000 sq ft and add two aircraft parking positions. Phase three will see construction of a second building, taking the combined footprint to 340,000 sq ft, and two more parking positions.
Mr Kalmbach said: "We do not have a timeline, but will work on on phase one.  We will move forward when the timing is right, and as demand changes, and work closely with our partners to ensure a world-class cargo facility for the DFW Airport cargo community."